Time to check out the latest in ski goggles for next season
Article courtesy of Switch Back Travel
From new interchangeable-lens models to budget classics, we break down the top snow goggles on the market.
No matter your experience level or budget, there is a great ski goggle waiting to be found.
Interchangeable lenses dominate the high end of the market with systems that are getting quicker and easier by the year. Field of view is another area of innovation, highlighted by the unique curved lens on Smith's 4D Mag. Meanwhile, intermediate, beginning or casual skiers can still pick up a good goggle for $100 or less. Below are the best ski goggles for the 2022 season. For more background, see our ski goggle comparison table and buying advice below the picks.
Our Team's Ski Goggle Picks
Best Overall Ski Goggle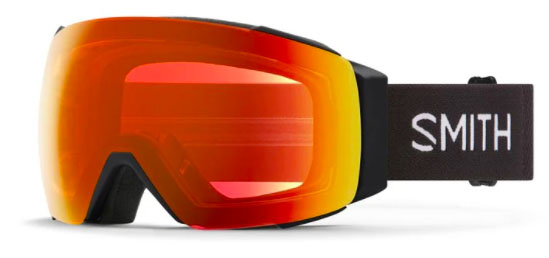 Frame size: Medium
Number of lenses included: 2
Lens shape: Spherical
What we like: Fantastic optics, comfortable fit and available in a range of sizes.
What we don't: Good but not great quick-change system.
If Smith dominates one area, it's snow goggles. There are several models to choose from at varying price points, but the I/O Mag is our favorite. Released as a quick-change variation of the classic I/O, the goggle features superb optics with an expansive field of view, it comes with two lenses, has an extremely comfortable fit, and is one of the best ventilators we've tested.
One of its downsides is that its interchange system is not the fastest to use—it's outdone by the magnetic Anon M4 below—but the I/O Mag earns its title as the best all-around ski goggle with its excellent ChromaPop lenses.
Popular in Smith's sunglasses, ChromaPop offers HD-like color quality that translates to the slopes with fantastic clarity in a wide range of conditions (depending on the lens).
What really stands out is the lens's ability to highlight small details—bumps, crud, or debris—in low light. For hard chargers or those that hit the slopes without regard to the weather report, this adaptability is a big upside.
Made in three different frame sizes, almost everyone fits an I/O Mag: the I/O Mag S is for small faces, the I/O Mag XL has the largest fit, and the standard I/O fits a medium-sized face perfectly. Read in-depth review here.
See the Smith I/O Mag ChromaPop  See the Women's Smith I/O Mag S
Best Budget Ski Goggle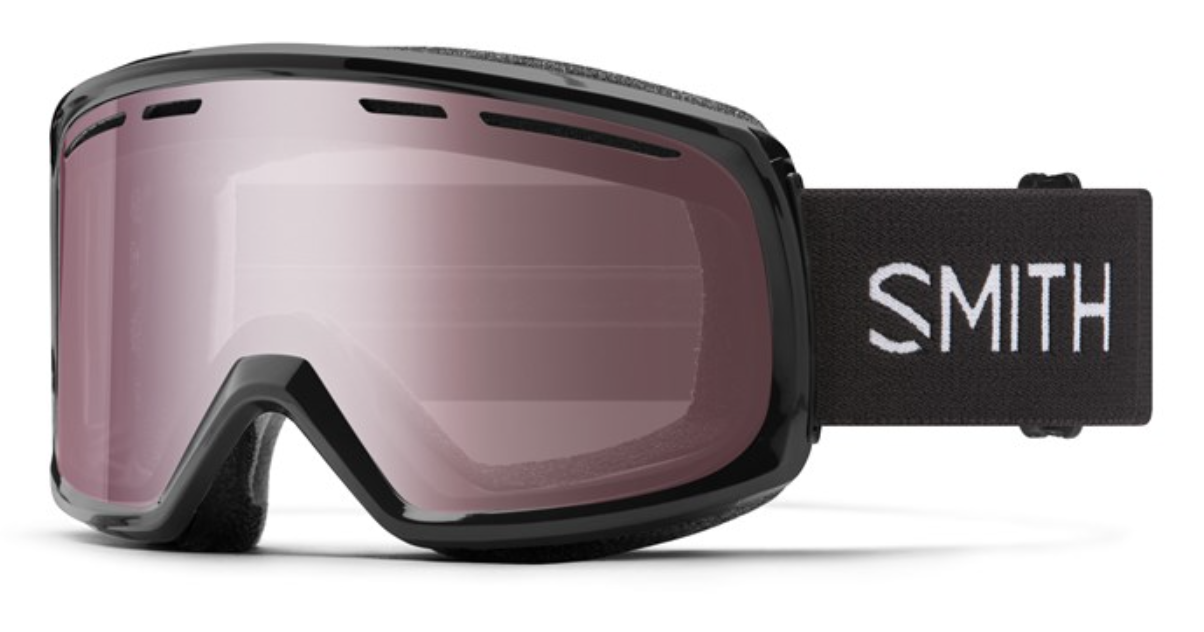 Frame size: Large
Number of lenses included: 1
Lens shape: Cylindrical
What we like: Decent comfort and performance at a great price.
What we don't: Lens comes up short in foul weather and challenging lighting.
Just about everything involved with skiing is expensive—from the equipment to lift tickets—so we love finding a good value.
At less than one-third the price of our top pick, the Smith Range is just that. This goggle features a large frame (the women's Drift offers a medium fit) with decent edge-to-edge visibility that minimizes the tunnel effect you find on many cheap designs. Further, you get upgrades like multi-layer foam cushioning for comfort and Smith's proven anti-fog coating.
The Range also has a refreshingly classic look with a full frame encompassing the low-profile cylindrical lens.
What are you giving up at the Range's budget-friendly price? To start, you only get one lens, which means that you can't swap between tints based on the weather. In addition, you miss out on Smith's ChromaPop lens technology, so the clarity and precision fall well short of the I/O Mag above.
If you only get out a couple times a year or plan your trips around favorable conditions, these aren't big compromises. Those that spend a lot of time on the hill, particularly off-trail and in inclement weather, will be better off with a higher-end model.
For an even cheaper option from Smith that has a medium fit but makes some compromises in comfort, check out their $50 unisex Frontier and women's Vogue.
See the Smith Range Goggle
Best Interchangeable-Lens System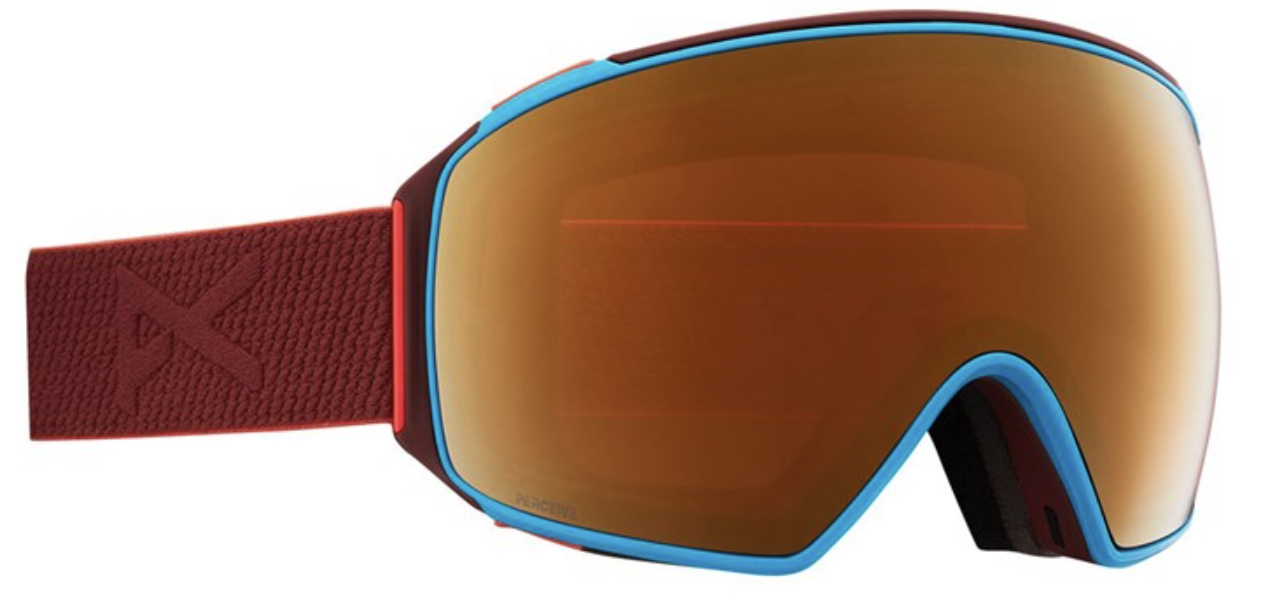 Frame size: Large
Number of lenses included: 2
Lens shape: Toric (cylindrical available)
What we like: The fastest lens change on the market and excellent field of vision.
What we don't: Expensive; not everyone needs the quick-change system.
Smith may have pioneered the interchangeable-lens system, but Anon is mastering it. Much like its predecessors, the M2 and M3, the M4's magnetic lens swapping is best-in-class. It's as easy as giving a slight twist to the frame to expose the lens and pull it away from your face.
Anon honed things in even further with the latest model thanks to a very sturdy frame that protects the lens and holds it securely in place (ours has survived multiple crashes without issue).
Further, the M4's versatile construction allows you to swap between cylindrical and toric lenses (additional lenses cost extra) depending on preferences in style and performance. We still give the slight optical edge to ChromaPop due to its more vibrant and natural colors, but Anon has the top quick-change system on the market.
The MFI in the M4's name is for the included magnetic clip-in facemask. This feature combines with the goggle to create a blocker system against driving wind and snow without fogging the lens.
Our one nitpick with the facemask is that it's so thin that it lacks a strong structure. If you're breathing heavily while hiking, the material can be sucked into your mouth. But all the other key components are there with the M4 MFI, including triple-layer foam and a variety of lens options to cover you from bright to cloudy.
It's a hearty investment at $320, but we haven't found fault with the goggle's ease of use and all-around top-end performance… Read in-depth review
See the Anon M4 Toric MFI
Best Large-Frame Ski Goggle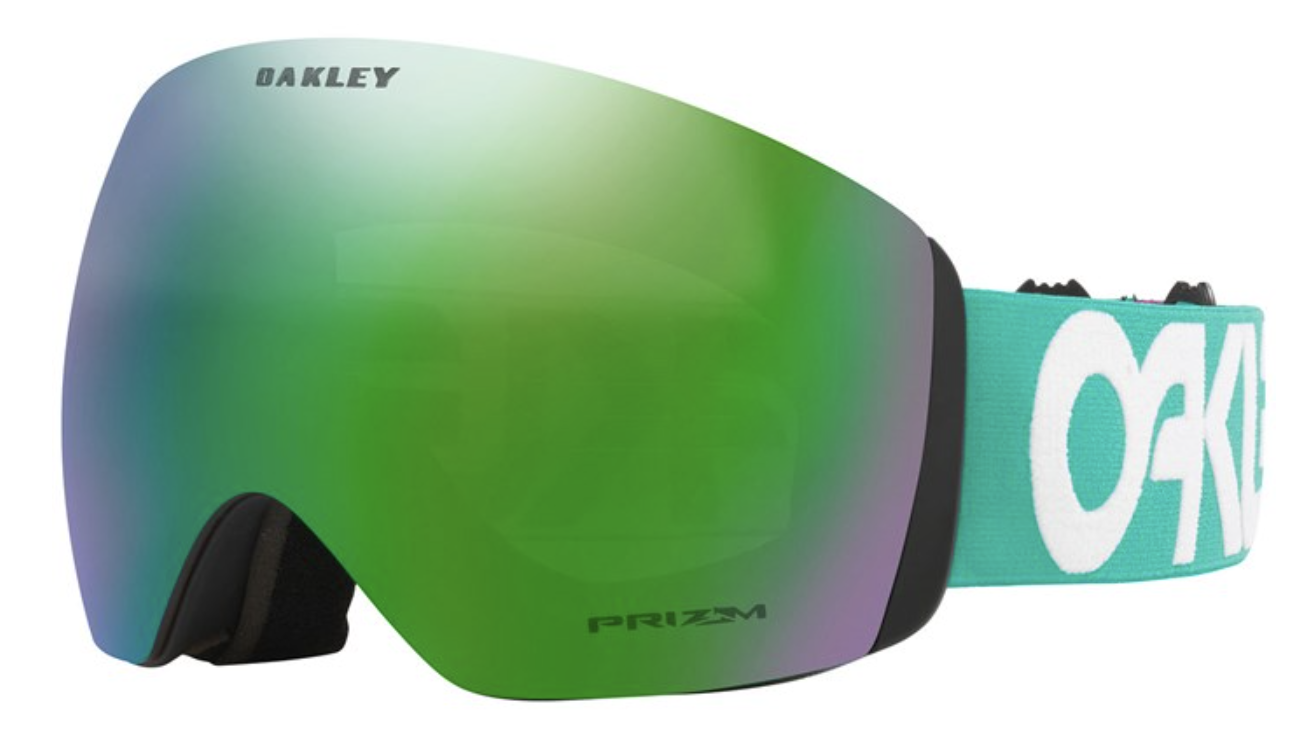 Frame size: Large
Number of lenses included: 1
Lens shape: Spherical
What we like: Massive field of view and quality optics.
What we don't: Only comes with one lens; old lens change system.
One of the more distinctive designs on the mountain, Oakley's Flight Deck has been a long-time favorite thanks to its oversized, rimless style. The large spherical lens gives the goggle its signature look and combined with a low-profile shape, you get one of the largest fields of view on the market (particularly at its price point).
Compared with the Smith I/O Mag above, you see more of the mountain in all directions—up, down, and side-to-side. Tack on Oakley's Prizm technology, which is neck and neck with Smith's ChromaPop, and this is one impressive ski goggle.
The most notable downside is that the Flight Deck only comes with one lens (additional Flight Deck Prizm lenses start at $70). And should you invest in a second lens, the quick-change isn't exactly quick by most people's standards and less intuitive than modern options (we'll admit to turning to YouTube for a tutorial). But this doesn't detract from the excellent visibility, all-day comfort, and high-end build quality of the Flight Deck.
For a similar all-around design but with a trimmed-down, medium/large fit, check out the Flight Deck M.
See the Oakley Flight Deck L Prizm
For Maximum Field of View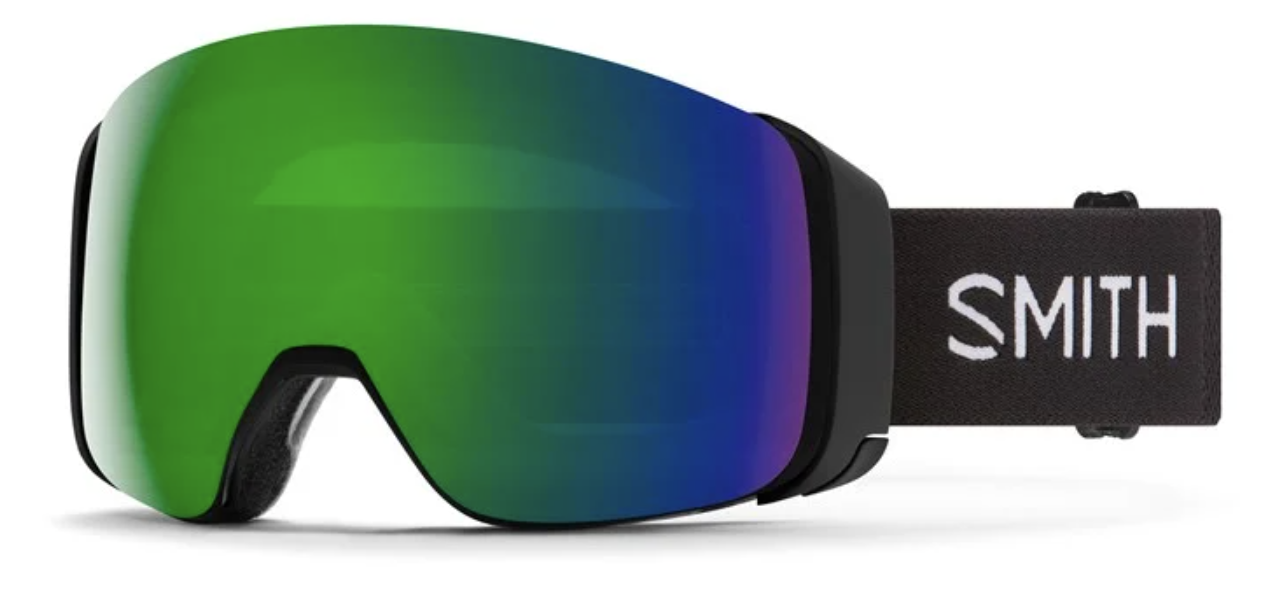 Frame size: Medium/large
Number of lenses included: 2
Lens shape: BirdsEye Vision
What we like: Top-quality build with a noticeable boost in downward visibility.
What we don't: Hard to justify the jump in price over the I/O Mag above.
Released a couple seasons ago to quite a bit of fanfare is Smith's top-end 4D Mag.
Building off the standard I/O Mag above, this goggle has an improved magnetic lens-change system and a slightly larger fit, but the big news is the lens shape. Called BirdsEye Vision, the lower portion of the lens curves inwards, opening up downward visibility by 25 percent (according to Smith). It's hard to fully verify that claim, but the difference is immediately apparent when trying it on back-to-back with alternatives like the I/O Mag and Oakley Flight Deck.
For those who put a premium on maximum field of vision—such as riders who spend a lot of time in difficult terrain off-piste or in the bumps—the 4D Mag is a nice option.
Why hasn't the 4D Mag overtaken the I/O Mag as our top-rated goggle? The primary reason is price: there's no doubt it's a fun piece of tech, but visibility, in general, has become much less of an issue among modern, premium goggles.
As such, many skiers will find it difficult to justify the $50 jump in cost (although the included hard-sided case is a nice touch). Moreover, there's a faint line and a small amount of distortion right at the curve in the lens. Although the line is not noticeable while skiing.
In the end, it comes down to priorities, and the 4D is best-in-class when it comes to unencumbered views… Read in-depth review
See the Smith 4D Mag
Most Ventilated for Backcountry Skiing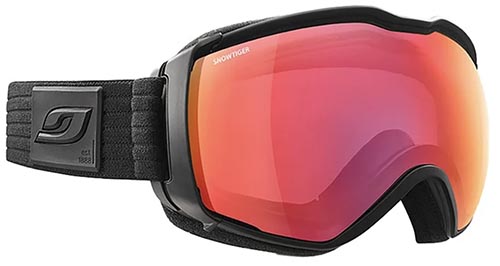 Frame size: Large
Number of lenses included: 1
Lens shape: Spherical
What we like: Simple yet extremely effective anti-fogging system.
What we don't: Only sold with one lens, and only with photochromic lenses.
For uphill travel, many backcountry skiers are forced to ditch their goggles due to persistent issues with fogging. Enter Julbo and their simple yet effective SuperFlow System.
The lens on their Aerospace goggle is attached to a set of small hinges, which can be pushed forward to separate it from the frame. This creates enough airflow to dissipate any moisture buildup and eliminate fogging, even during high-output activities. And it's quick and easy to push the lens back into place (even with gloves on) for the descent.
For backcountry riders, ski mountaineers, or even those that often run hot on extended side-country hikes, the Julbo Aerospace is a revelation.
What are the compromises with this ventilation-focused design? For one, you pay a premium for the goggle at $250-$260, which only includes a single lens. In addition, it's only sold with photochromic lenses, which we've found run a bit dark in general and can be problematic in changing light conditions (such as going in and out of trees).
On the other hand, photochromic lenses excel in areas with a lot of sun, including some popular regions of Colorado.
Overall, the Julbo is more than serviceable in terms of optics and the truly impressive ventilation makes it a great backcountry option.
See the Julbo Aerospace
Best of the Rest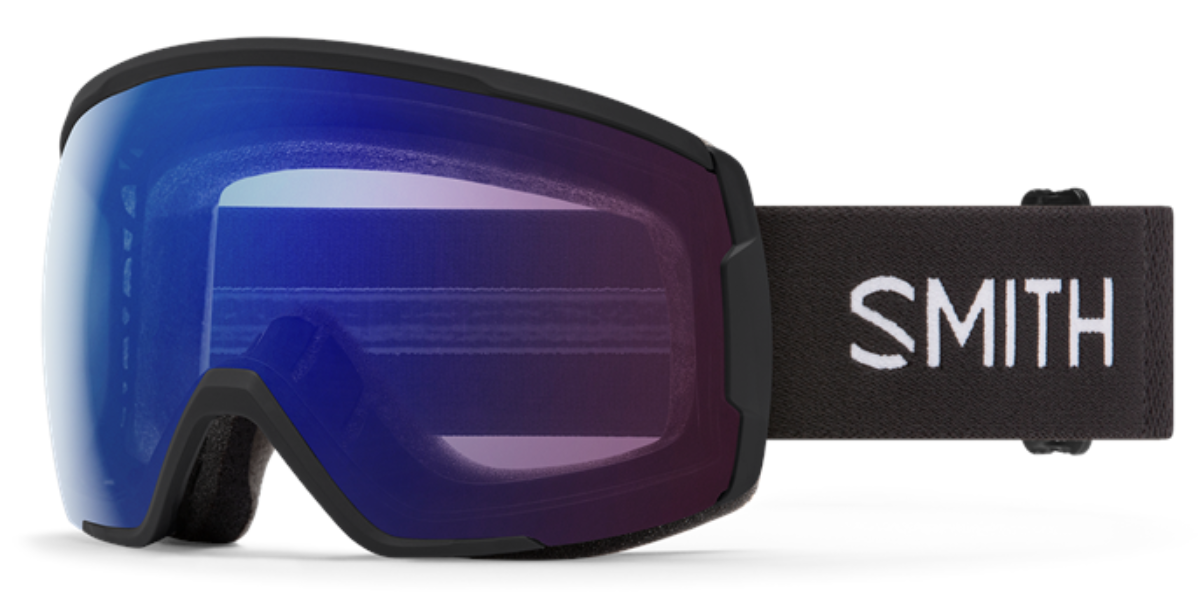 Frame size: Medium
Number of lenses included: 1
Lens shape: Spherical
What we like: Great optics and ventilation at a solid price.
What we don't: Many competitors include two lenses.
Smith doesn't have a lot of holes in their snow goggle lineup—they pretty much cover it all—but the all-new Proxy manages to fill a gap with its framed look, spherical lens, and medium fit. And in testing the Proxy at the end of last season, it was clear they've created another winner.
This goggle hits a real sweet spot in the market: the medium shape should fit a lot of faces well, the field of view is truly impressive, and the ChromaPop optics perform as expected (i.e., really well). The well-sorted ventilation and anti-fog coating did its job, even when wearing a mask and with closed vents on our helmet on windy and colder days.
Priced right at $150-$170, the Proxy adds up to a goggle that should satisfy the needs of a good chunk of the resort market.
In terms of complaints, the main knock on the Proxy is that it only comes with one lens, so it's important that you nail the right VLT for your local conditions. Err on too dark of an option, and you may be in a tough spot on a socked-in day.
Also, this is purely a matter of personal preference, but not everyone will be a fan of the framed look. As expected, however, Smith has you covered there with their frameless Skyline ($180-$200). Given the choice between the two, we'd go with the Proxy, which matches it in pretty much all ways but saves you about $30… Read in-depth review
See the Smith Proxy
Frame size: Large
Number of lenses included: 2
Lens shape: Cylindrical
What we like: Great peripheral vision for a mid-range design.
What we don't: Middling fog prevention.
We've found Giro comes up a little short of Smith, Oakley, and Anon at the premium end of the market, but they excel in the sub-$200 category.
Their Method is a great case in point: its large yet low-profile frame delivers excellent peripheral vision. The three-layer foam padding does a nice job with both next-to-skin feel and moisture wicking. Meanwhile, the design is also hardwearing with a full frame to protect the sides of the lens and rugged materials in general.
For park riders and beginners alike, the popular Giro is a solid option.
Where does the Method come up short? Like the brand's Axis below, the ventilation system seems to prioritize protection around the frame over all-out airflow, which makes it a bit more prone to fogging up.
In addition, the large shape and relatively tall height can impact compatibility with some helmets. Still, we found it pairs well with other Giro products.
Finally, it's worth noting that Giro also offers their well-respected Blok goggle for $20 less, but we think it's worth stepping up to the Method for the second included lens (the Blok only comes with one).
See the Giro Method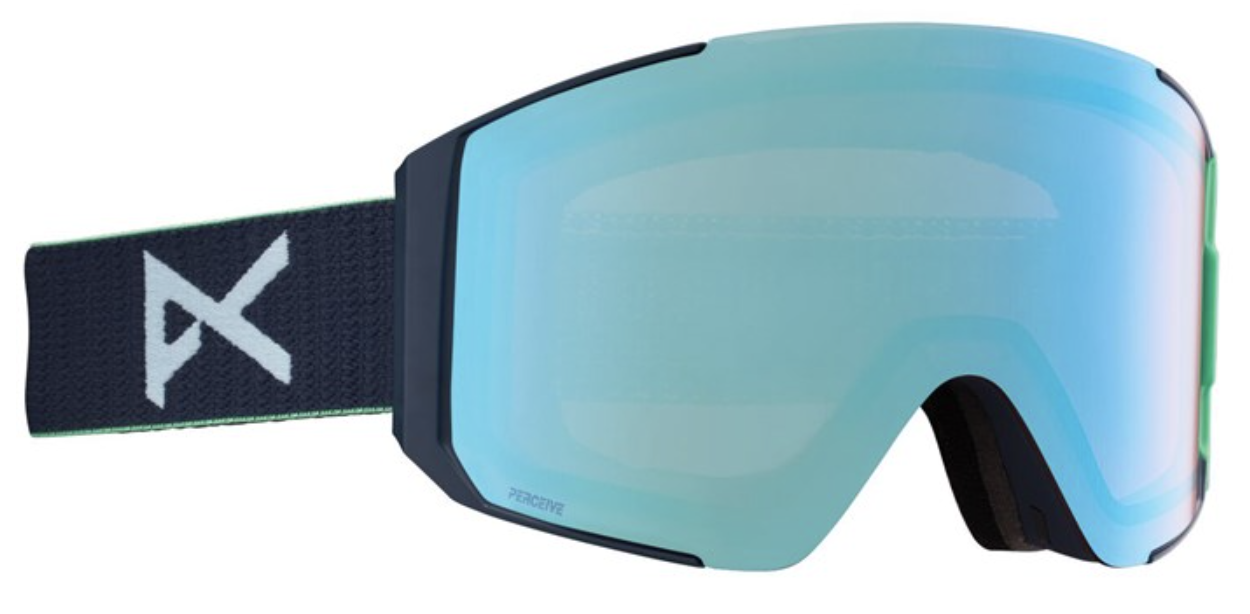 Frame size: Medium/large
Number of lenses included: 2
Lens shape: Cylindrical
What we like: All-around quality build with an easy-to-use lens-change system.
What we don't: So-so field of view.
Anon's M series has gotten a lot of attention over the years, but their Sync stuffs a whole lot of tech into a reasonably priced package.
Its $200 MSRP undercuts the cheapest M models (the M2 and M3) by $35 but retains quality "Perceive" lens options, compatibility with the brand's MFI masks, and good all-around comfort with triple-layer foam and a well-made TPU frame.
In addition, the lens-swapping system is a standout for the price, with a design that uses magnets and a single locking arm to quickly and securely change out lenses. Throw in a medium/large fit and available women's-specific and low-bridge options, and you have a versatile and well-sorted goggle for resort skiers and snowboarders.
What do you give up with the mid-range Anon Sync? Field of view is a step down from the M series goggles, and it's something we especially noticed looking directly down and in the peripheral vision.
Anon did a decent job balancing ventilation with low-profile padding, but visibility is not its strong suit (the cylindrical lens shape doesn't help either). In addition, the lens-change setup isn't as simple as the M4's above, although as we touched on, it's still a class leader in ease of use for the price. Taken together, the Sync's long-lasting construction, included back-up lens, and MFI compatibility earns it a midpack ranking on our list.
See the Anon Sync  See the Women's Anon Sync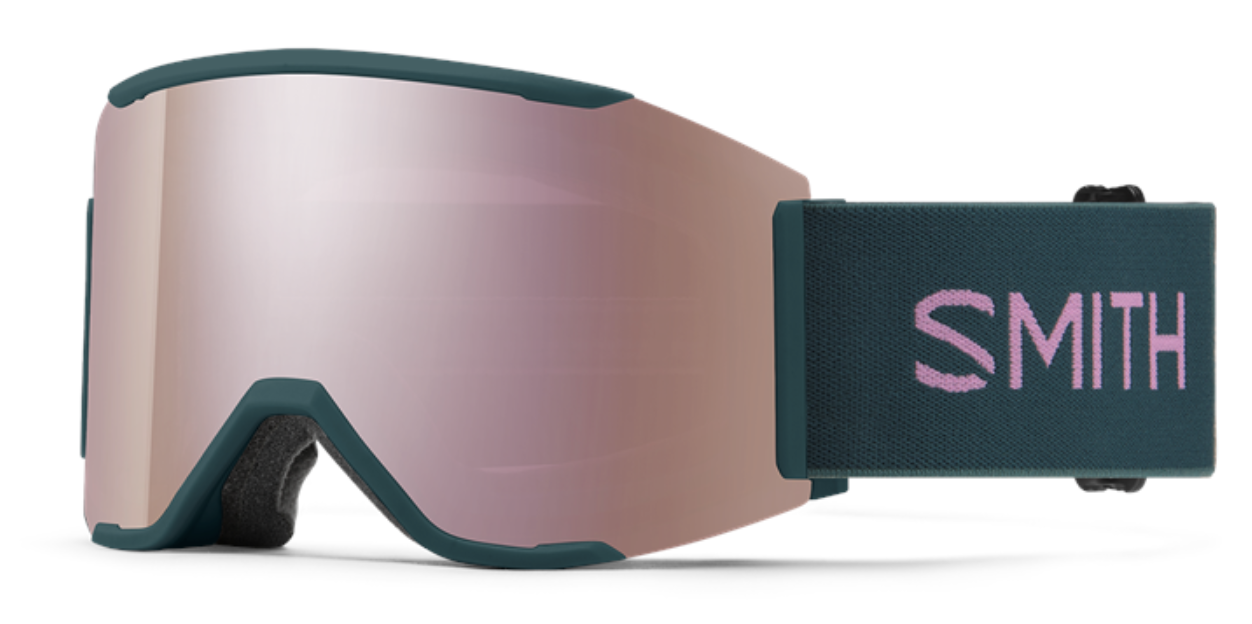 Frame size: Medium/large
Number of lenses included: 2
Lens shape: Cylindrical
What we like: Classic Squad looks and performance with a faster lens change.
What we don't: Pricey for a cylindrical design with only average field of view.
Smith's big release last season was the Squad Mag. Slotting below the 4D and I/O in price, the Squad Mag combines a quick-change system that is nearly identical to the 4D with a more budget-friendly cylindrical shape.
Its semi-framed look is immediately recognizable—the standard Squad has been a go-to for years among snowboarders—and we found that it fits nicely with a wide range of helmet models. Like the other Mag designs, you get two high-quality ChromaPop lenses to maximize performance in a range of conditions, and the triple-layer foam along the interior has proven to be extremely comfortable.
In wearing the Squad Mag back-to-back with the other Smith options, however, some complaints popped up. Most notably, the Squad's bulkier frame has a pretty big impact on the field of view, particularly along the sides and in the bottom corners. It also feels quite a bit heavier, which means the goggle doesn't fade as much into the background throughout the day. Neither are deal-breakers for us, and those that like the look of a cylindrical lens shouldn't be deterred, but the downsides push the Squad Mag to a mid-pack finish… Read in-depth review
See the Smith Squad Mag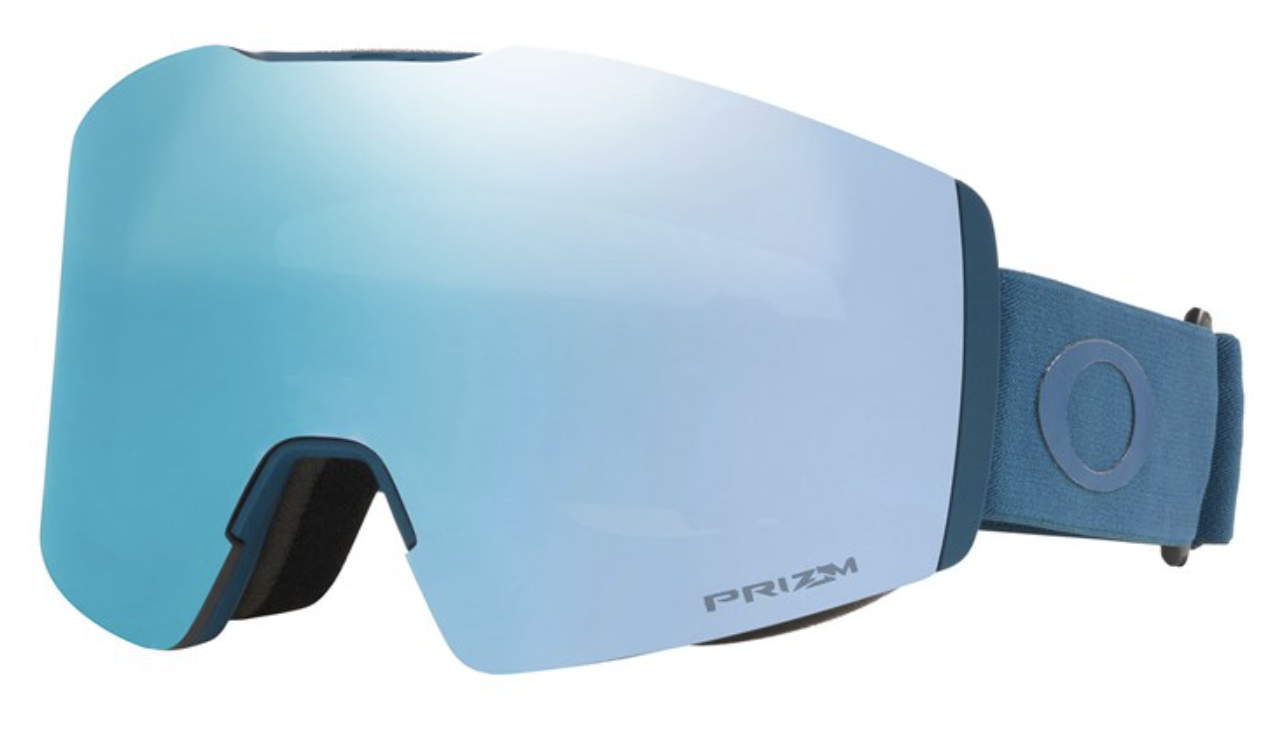 Frame size: Medium
Number of lenses included: 1
Lens shape: Cylindrical
What we like: Premium optics and comfort with a bold look.
What we don't: Not a leader in field of view; many competitors include two lenses.
Oakley's Fall Line XM goggle packs their premium lens technology into a trimmed-down shape. With a similar fit as Smith's I/O Mag above and Giro's Axis below, the goggle fits easily under most ski helmets but still makes a pretty big statement with its bold, frameless style.
As expected from Oakley, the goggle is very well-made, and the range of Prizm lenses are strong all-around performers. The Fall Line XM does buck the quick-change trend and sticks to their somewhat clunky Ridgelock lens-swapping system, but we do appreciate that it provides a very solid seal with no room for wind to sneak through.
We like the Fall Line XM, and the medium-size fit is a nice way to get a toned-down version of the Flight Deck above, but we do have a couple of nitpicks. Most importantly, the Fall Line only comes with a single lens while nearly every other competitor includes two. Second, the substantial frame makes the goggle sit a little too far off the face, which translates to less peripheral vision.
If you're an Oakley devotee and like the styling, the Fall Line certainly won't be a letdown, but we think there are better alternatives out there. Of note, Oakley released the Flight Tracker line last season, which has a low-profile frame to improve visibility at the edges.
We'll report back after testing to see if it's a worthy alternative to the Fall Line… Read in-depth review
See the Oakley Fall Line XM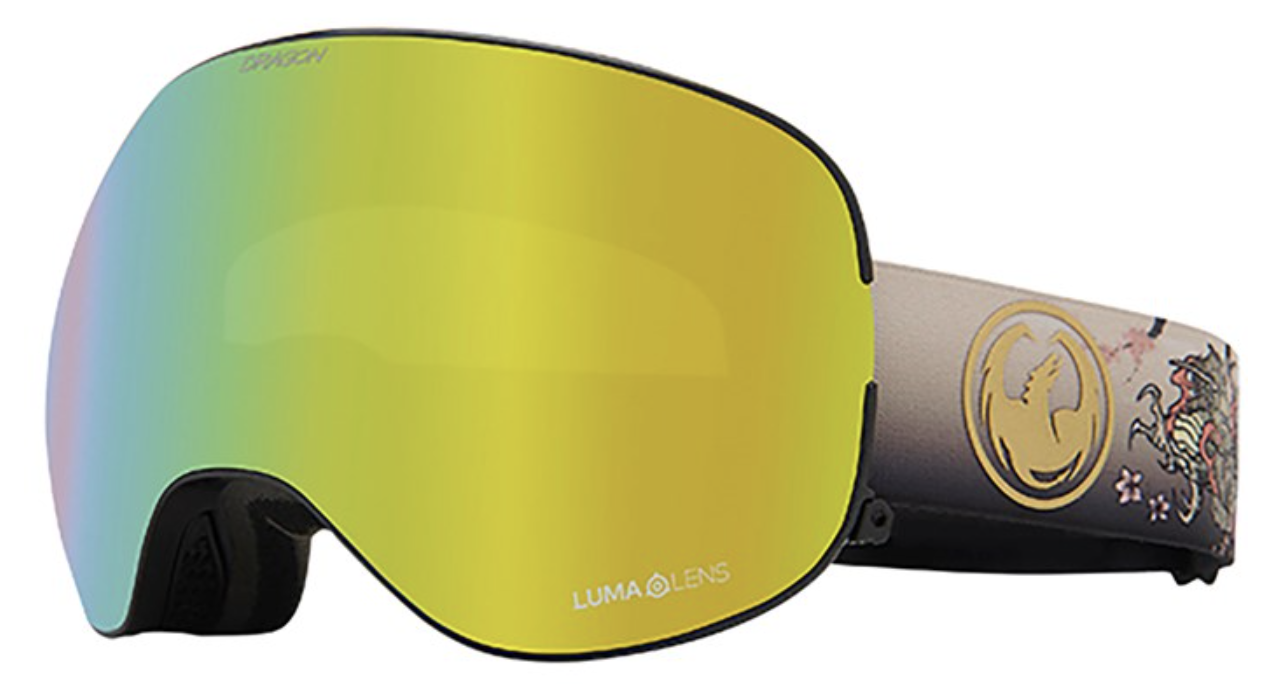 Frame size: Large
Number of lenses included: 2
Lens shape: Spherical
What we like: Easy-to-use lens-change system and included hard-sided case.
What we don't: Surprisingly limited field of vision.
Dragon doesn't have the cachet of Smith or Oakley, but their premium X2 goggle is absolutely packed with features. In a nice upgrade from the Oakley Flight Deck above, you get two lenses and a hard-sided case—which easily accounts for the difference in cost—and a superior lens-changing system. In fact, outside of the magnetic designs from Anon and Smith, this is one of our favorite lens interchange technologies.
Similar to the Oakley Switchlock, it works by pushing a lever on each side of the frame up to release (just be sure to have your hands in front of you when you open the levers or the lens will just pop out). Re-installing the lens is just as easy and can be accomplished without removing the goggles from your face.
Why aren't the Dragon X2s ranked higher? The large size is similar to the Flight Deck, but the goggle has a surprising amount of tunnel vision. The thick foam and substantial nose cushioning limit the field of view while looking down, even more so than smaller goggles like the Giro Axis below.
The plastic frame also feels cheaper than the price tag, but the X2s still are fairly durable with a thin frame protecting the edges of the lenses. Feature-wise, there's little to complain about, but the X2 simply can't match our top-rated goggles in on-the-snow performance.
See the Dragon X2 Goggle
Frame size: Large
Number of lenses included: 2
Lens shape: Cylindrical
What we like: Huge visibility and ChromaPop lenses.
What we don't: Overkill in terms of size for most skiers/snowboarders.
Smith's Squad was an instant hit, and they expanded the line (literally) with the Squad XL.
To start, this is a massive goggle—comparable to the Oakley Flight Deck above in lens height. At the same time, it's surprisingly low-profile because of its budget-friendly cylindrical lens shape and simple feature set. The net result is a massive field of vision and pretty darn good clarity thanks to the two ChromaPop lenses.
Many large goggles work well with a variety of head sizes, but we think the Squad XL's shape is more limiting. The super tall dimensions and flat profile give it an odd look on medium/large-size faces (we didn't, however, have too many issues fitting the goggle under most helmets). And the build quality also fell short of what we're used to from the I/O line—there was a noticeable gap between the lens and frame in one corner. That could be chalked up to a one-off issue, however, and the Squad XL does get you two massive lenses at a very good price of $150.
See the Smith Squad XL ChromaPop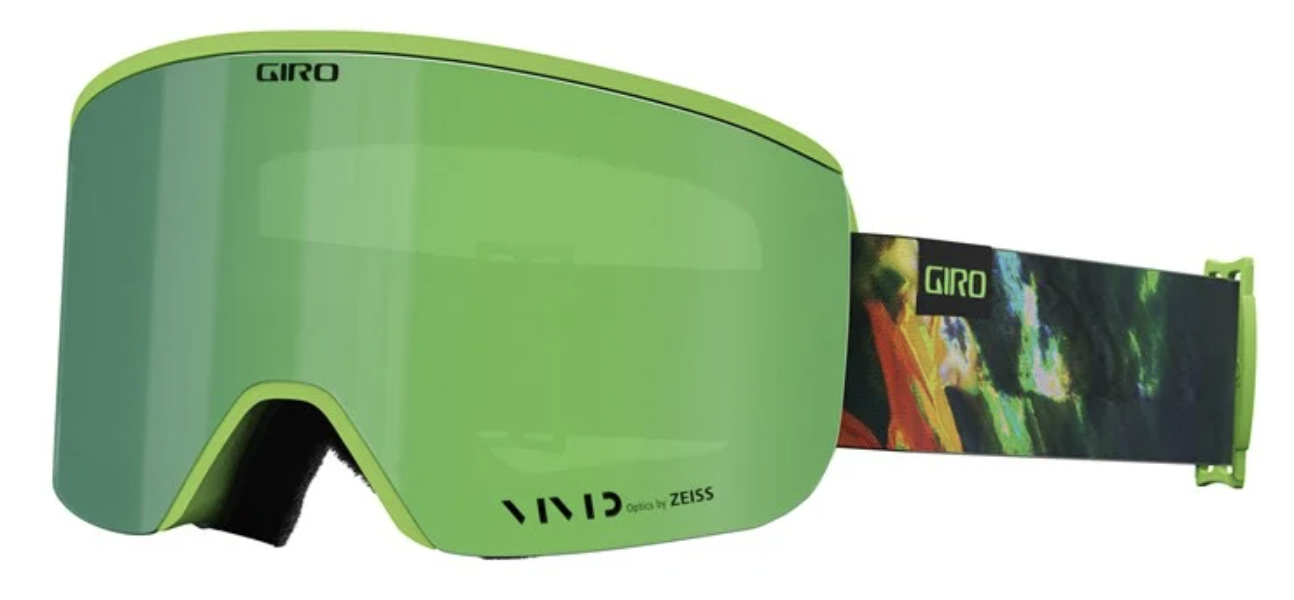 Frame size: Medium
Number of lenses included: 2
Lens shape: Cylindrical
What we like: Complete feature set at a great price.
What we don't: Ours had fogging issues.
Giro's Axis takes direct aim at the I/O series. Like the legendary line from Smith, you get a medium fit, two high-quality lenses, plush three-layer foam, and great all-around visibility.
The Axis also features Giro's updated quick-change system, which works as follows: twist the goggle slightly, grab the exposed section of the lens, and pop the four pins out of each corner. Removing the lens and reinstalling it requires a little force, and we don't love that you have to press directly on the lens to push the pins in place, but it's certainly faster to swap than the standard I/O (the I/O Mag above, however, edges it out).
To sweeten the deal, the Axis undercuts the I/O by $20 and the I/O Mag by $80-$110.
Unfortunately, the Axis was a letdown in terms of fog prevention. It's hard to pinpoint the culprit, but the reinforced vents along the top and bottom of the frame seem to limit airflow more than the open design that you get with the I/O collection (of note, not all of our testers experienced this problem).
Further, we found the Zeiss lenses to be a bit duller overall than ChromaPop, although we certainly appreciate the natural colors and feel.
All in all, if Giro can fix the fogging issues, the Axis would make a big jump up our list… Read in-depth review
See the Giro Axis  See the Women's Giro Ella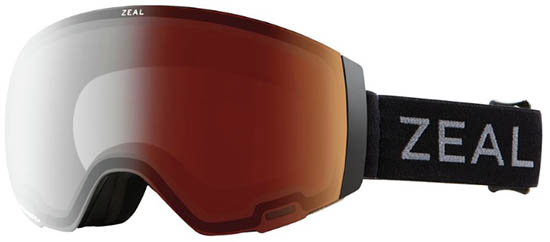 Frame size: Medium/large
Number of lenses included: 2
Lens shape: Spherical
What we like: Photochromic technology automatically adjusts the lens tint.
What we don't: Expensive and doesn't excel in low light.
Designed to be a one-lens solution, photochromic goggles automatically adjust their tint based on light conditions. Boulder-based Zeal Optics is a leader in this market, and their top-of-the-line spherical offering is the Portal. In addition to the well-respected photochromic technology, the goggle features a polarized finish to reduce glare in direct sunlight, a medium/large fit, and premium touches like soft, triple-layer foam.
In use, we found the lens works as advertised, adjusting fairly quickly as you move between light and shadows or the darkness of the trees. Zeal claims it takes less than 10 seconds to switch from light to dark, which feels about right.
What are the downsides of choosing a photochromic ski goggle like the Portal? For one, you're paying a lot (a replacement Portal lens costs $150) for optical quality that falls short of non-photochromic alternatives like Smith's ChromaPop and Oakley's Prizm.
Moreover, Zeal's lenses run pretty dark in general, which can be a problem on snowy or low-vis days (it's worth noting that Zeal includes an extra non-photochromic lens for these types of conditions).
We think the Portal has its time and place—including brighter days when shadows are starting to creep in—but we don't anticipate that it will overtake the popular quick-change designs above any time soon.
See the Zeal Portal Polarized Photochromic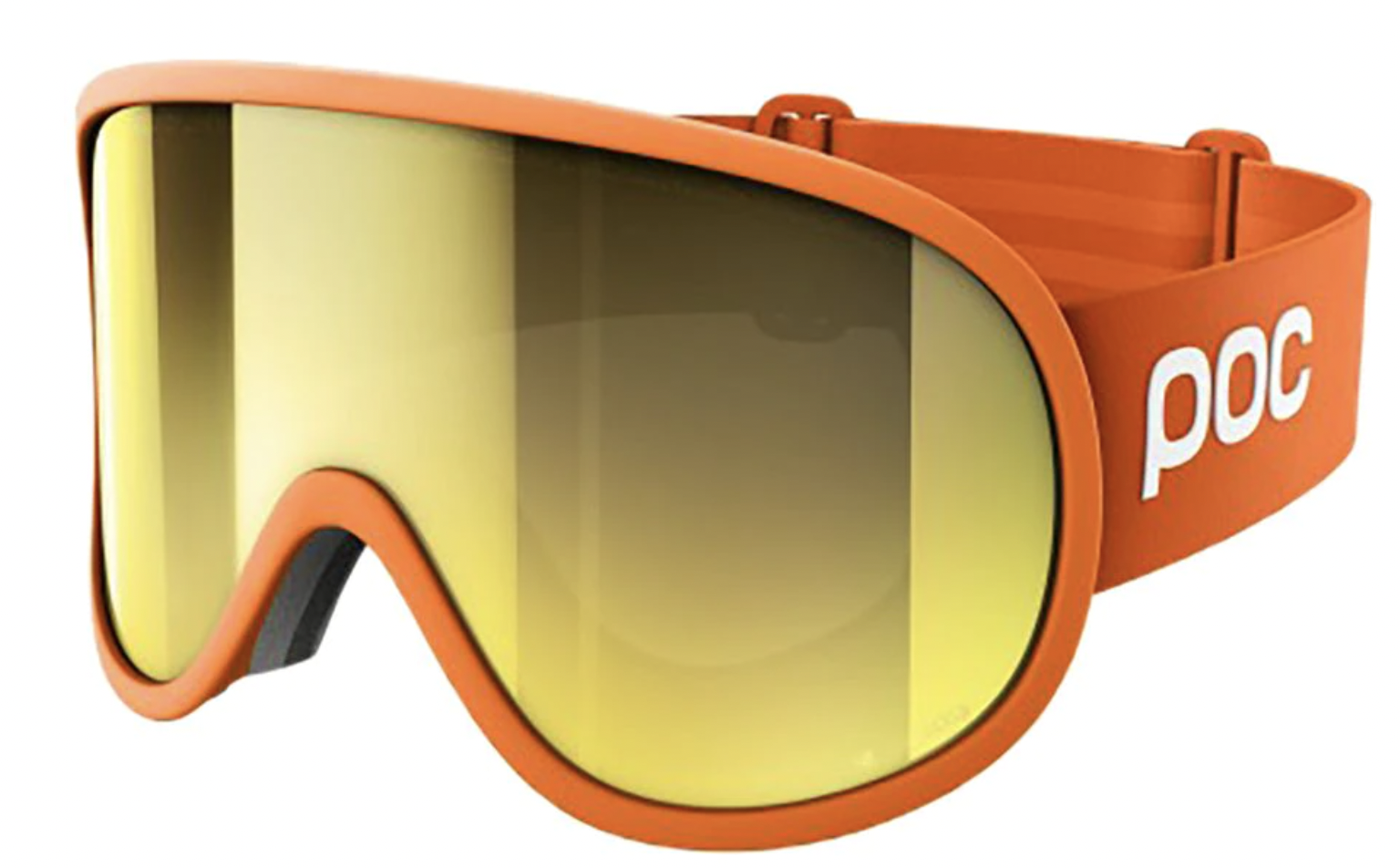 Frame size: Medium
Number of lenses included: 1
Lens shape: Cylindrical
What we like: Sturdy build and good all-around field of vision.
What we don't: Limited ventilation.
With sharp Zeiss lenses and a classic, framed look, the Retina gives a nod to the past while using thoroughly modern technology.
POC has done a nice job with this goggle, which has a sturdy feel and hits a competitive $170 price point. It has an excellent field of vision—even edging the Smith Squad Mag at the sides—and we've found its triple-layer foam is comparable in comfort to the more expensive goggles above from Smith and Oakley.
Where the POC Retina falls short for active skiers or snowboarders is ventilation. With fewer openings around the goggle, not enough air moves through to dissipate fog quickly if you're hiking or sweating on the downhill. This was an intentional decision from POC to avoid excessive air movement at high speeds (as such, the goggle pairs well with racers), but it makes it less well-rounded than the options above.
Its other challenge is competition in this price range: the Retina is within arm's reach of the $140 Giro Method above, which includes two lenses to better adapt to changing conditions. But that's not to take anything away from the Retina: its strong lineup of Zeiss lenses, variety of frame colors, and good looks are plenty to earn a spot on our list.
See the POC Retina Clarity Comp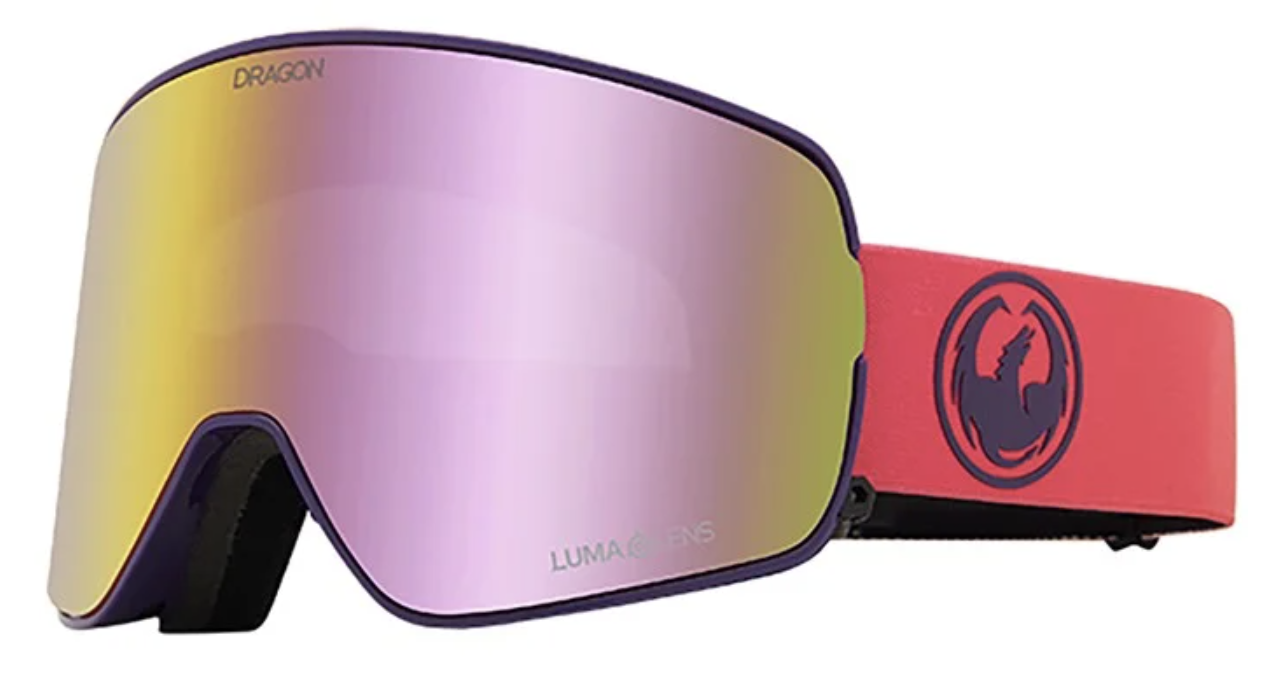 Frame size: Medium
Number of lenses included: 2
Lens shape: Cylindrical
What we like: Quick-changing lenses at a good price.
What we don't: Cheaper plastics, inferior optics.
Take the user-friendly lens interchange technology of the Dragon X2 above, add it to the mid-level NFX goggles, and you get the NFX2. Just as with the X2, it's easy to swap between lenses without taking off the goggle, and the NFX2 comes with a handy second lens for use on low-visibility days. Plus, we found the goggle's compact shape fits nice and snug on a medium-size face.
It all adds up really well on paper.
In testing the NFX2, however, we found ourselves torn. The interchange system is without a doubt a great feature, and the fleece backer makes the goggle quite comfortable, but it's hard to justify the rest of the package at $180-$190.
The taller profile and cylindrical lens give it a touch of tunnel vision, which isn't ideal for hard chargers, and the plastics have a lower-quality feel. If the ability to swap lenses is a top priority and you want to keep it under $200, the NFX2 is a fine choice. But taking the factors mentioned above into consideration, we'd be inclined to spend the extra cash to get the Dragon X2 or magnetic Anon M3 or M2.
See the Dragon NFX2 Goggle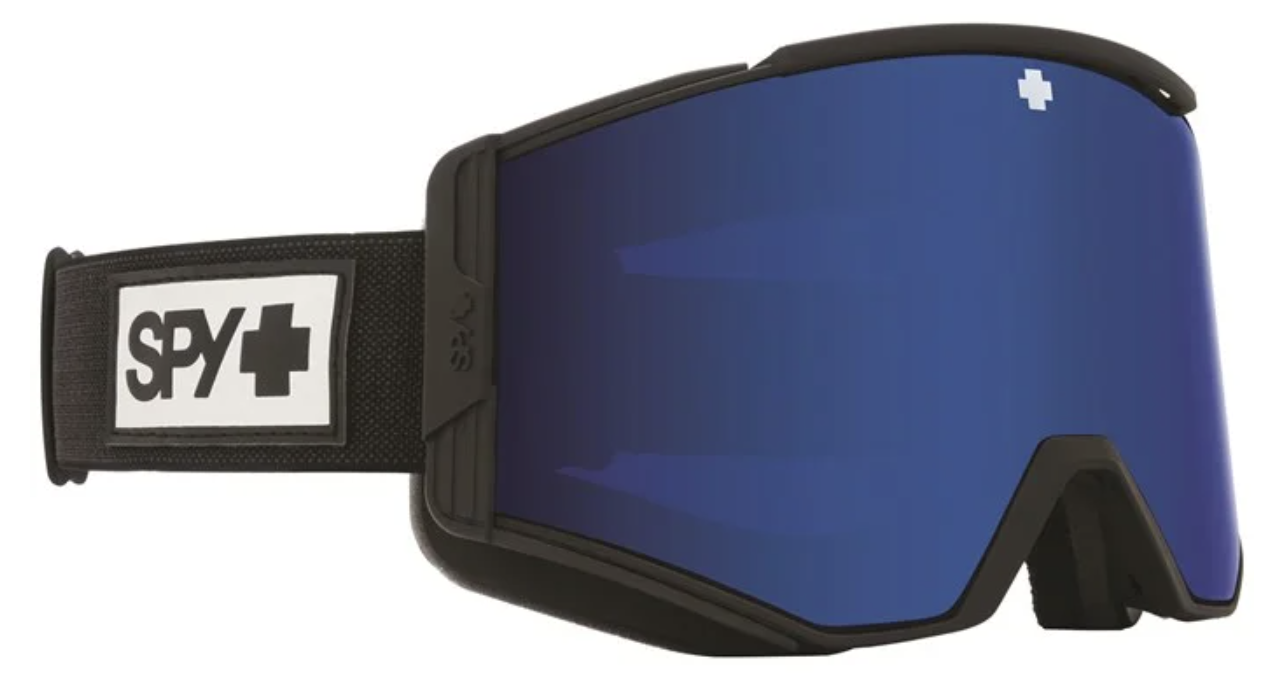 Frame size: Medium/large
Number of lenses included: 2
Lens shape: Cylindrical
What we like: Retro looks and a good all-around value.
What we don't: Limited frame and lens color options.
Retro-inspired cylindrical lens goggles are growing in popularity, and Spy's Ace is a quality mid-range option.
For $110 less than the Smith Squad Mag above, you get a surprisingly similar feature set: two lenses included, triple-layer foam, and a medium fit. Further, the relatively low-profile shape pairs well with most ski helmets and doesn't have the tunnel-like feel that you get with the pricier Dragon NFX2 above.
All told, we think Spy has hit a nice balance of performance and value with the Ace.
For downsides, the brand's proprietary Happy Lens design is a pretty strong performer but can't keep up with the high-end Prizm and ChromaPop options above. The flat shape impacts peripheral vision, and it's not as sharp as we'd like in low-light situations.
Additionally, you get far fewer lens tint and frame color options, which is limiting from both a performance and style perspective.
Finally, the goggle's interchange system can be temperamental, and it's easy to leave fingerprint smudges on the lens while making the swap. But these are fairly easy nitpicks to overlook given the Ace's competitive $130 price.
For a similar design but with spherical lenses, check out Spy's $140 Marshall goggles.
See the Spy Ace Goggle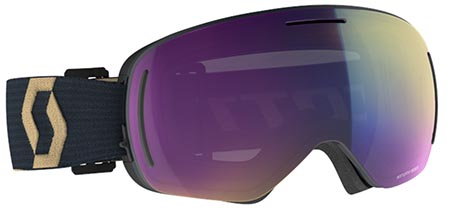 Frame size: Medium
Number of lenses included: 2
Lens shape: Spherical
What we like: Vents well, easy-to-use lens change system.
What we don't: Disappointing field of view.
With the market flush with options from Smith, Oakley, Giro, and others, it can be hard for smaller players to stand out. Scott has brand recognition on its side—many skiers know and love their products—but they're typically associated more with their hardgoods rather than accessories like goggles.
The LCG Evo attempts to change that reputation with a slick quick-change lens system, competitive $200 price, and highly ventilated design. Paired with their Symbol 2 Plus D helmet, we found the setup integrated flawlessly—we had zero issues with a gap between the helmet and goggle—and did a great job keeping us cool even on side country hikes.
Unfortunately, the field of vision stuck out as a real weakness of the LCG Evo. As a result of the quick-change lens system that uses a slider/pop-up arm and the generous venting around the frame, the lens sits pretty far away from your face. This translates to poor visibility when looking straight down, and the peripheral vision is noticeably worse than alternatives like Giro's Axis, Smith's Proxy, and Oakley's Flight Deck M. We put a high priority on field of view, so this pushes the Scott down our rankings. But if you match it with a Scott helmet and aren't as picky about your optics, the rest of the LCG Evo's performance and build quality stack up well to the class leaders.
See the Scott LCG Evo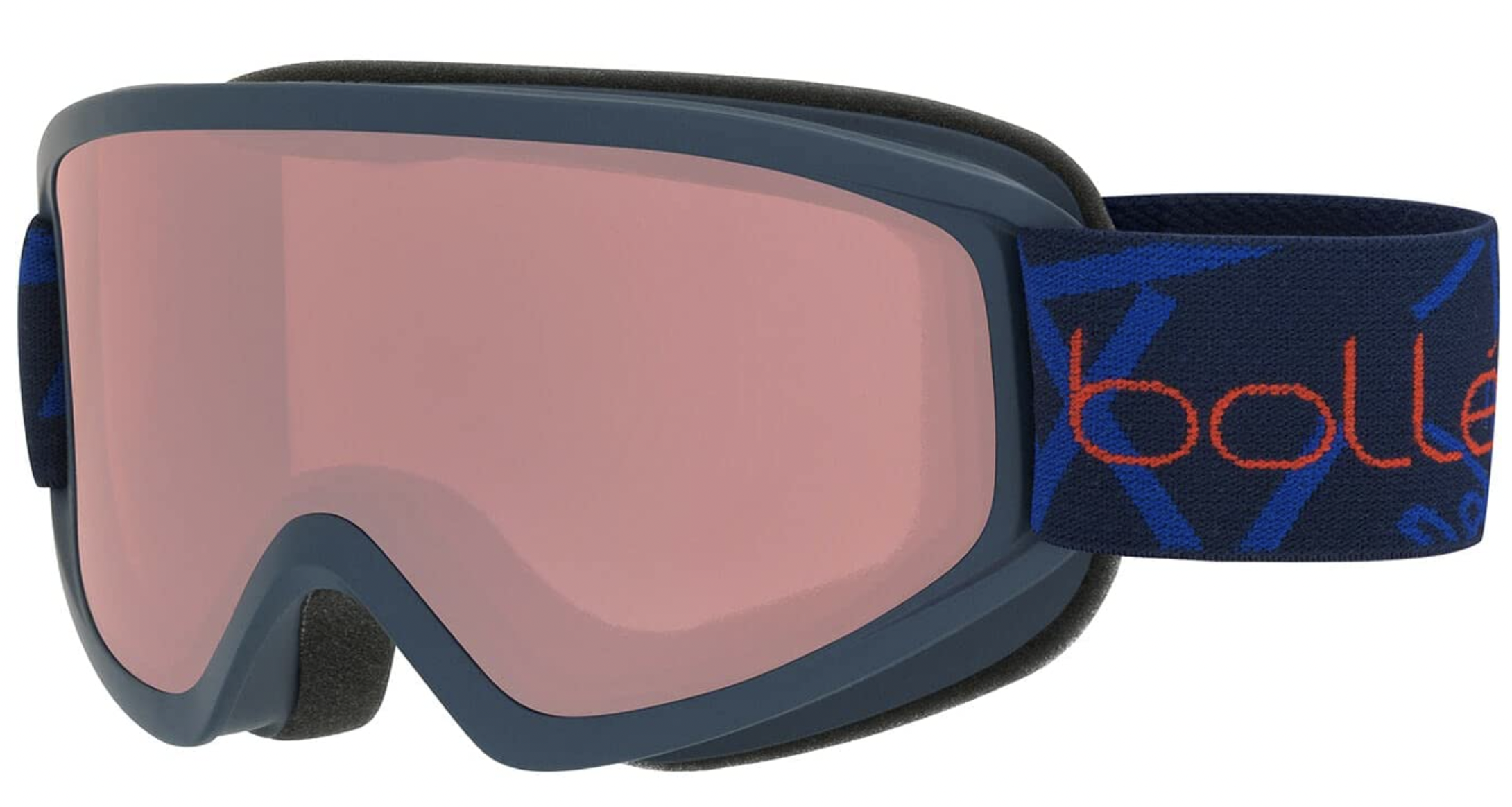 Frame size: Medium
Number of lenses included: 1
Lens shape: Cylindrical
What we like: Cheap.
What we don't: Everything about them is cheap.
Bolle's Freeze is the kind of cheapo goggle that's perfect for a first-time skier or to keep in your bag as a backup.
Like its predecessor, the classic Mojo, the goggle is very basic with a thick frame, small field of vision—peripheral visibility is especially compromised with the cylindrical lens—and dull optics. The Freeze isn't all that comfortable either with simple foam padding, and the straps have to stretch to fit over a bulky helmet.
But we're talking about a $30 goggle here, and all of those complaints about the Freeze are to be expected. For someone that skis frequently but still is on a tight budget, we recommend springing for the slightly more expensive Smith Range above—it is more comfortable and has a much better lens.
One final note related to the Freeze: Bolle does offer a clear tint option, which is useful for those that plan on night skiing a time or two during the season.
See the Bolle Freeze Goggle
Ski Goggle Comparison Table
Ski Goggle Buying Advice
Lens Shapes: Cylindrical, Spherical, and Toric
Cylindrical
Most entry-level ski goggles are cylindrical, meaning they curve across your face horizontally but are flat vertically. This shape is easier and cheaper to manufacture but can result in less peripheral vision, minor distortion at the top and bottom of the lens, and more glare.
The primary reason to opt for a cylindrical lens is cost, but some just prefer the look, which avoids the bug-eye style on many modern spherical models. Notably, there has been a shift in the market over the past couple of years, with a number of mid-range and premium goggles released with cylindrical lenses.
Advances in lens technology (covered below) are decreasing the negative impacts of the cylindrical shape, and many of our top models have this lens type, including the Giro Method. Its large lens is competitive in field of view and clarity with pricier spherical options from Smith and Oakley.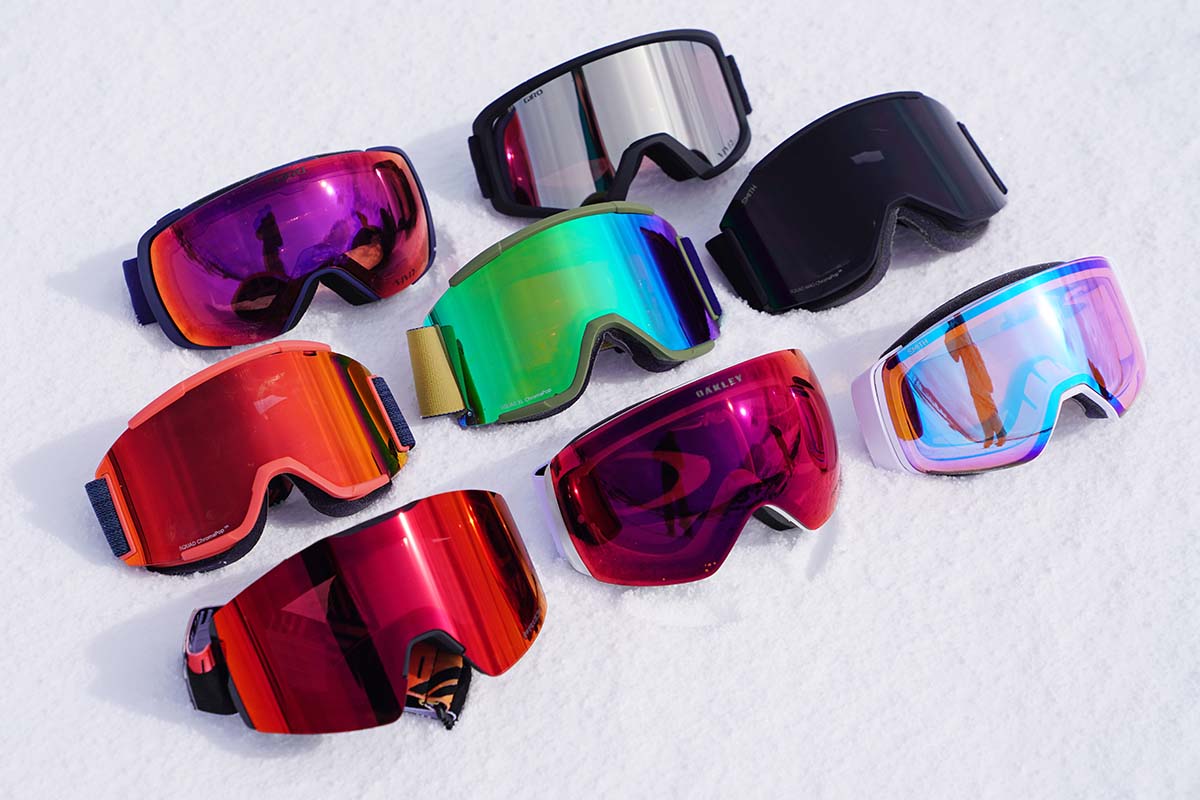 Spherical
Even with the recent shift towards cylindrical designs, many premium goggles are spherical, meaning the lens curves both horizontally and vertically. The curve is intended to mimic the shape of your eyeball to give a natural, superior field of view and optics.
In use, we've found this to be largely true (especially in peripheral vision). Although as mentioned above, the differences between lens types aren't as noticeable as they once were.
Spherical lenses do give the goggle a taller profile with its bubble-like shape, and while it's a matter of personal preference, we like the look most of the time when it's paired with a ski helmet.
Models that feature this shape include Smith's I/O Mag and Oakley's Flight Deck.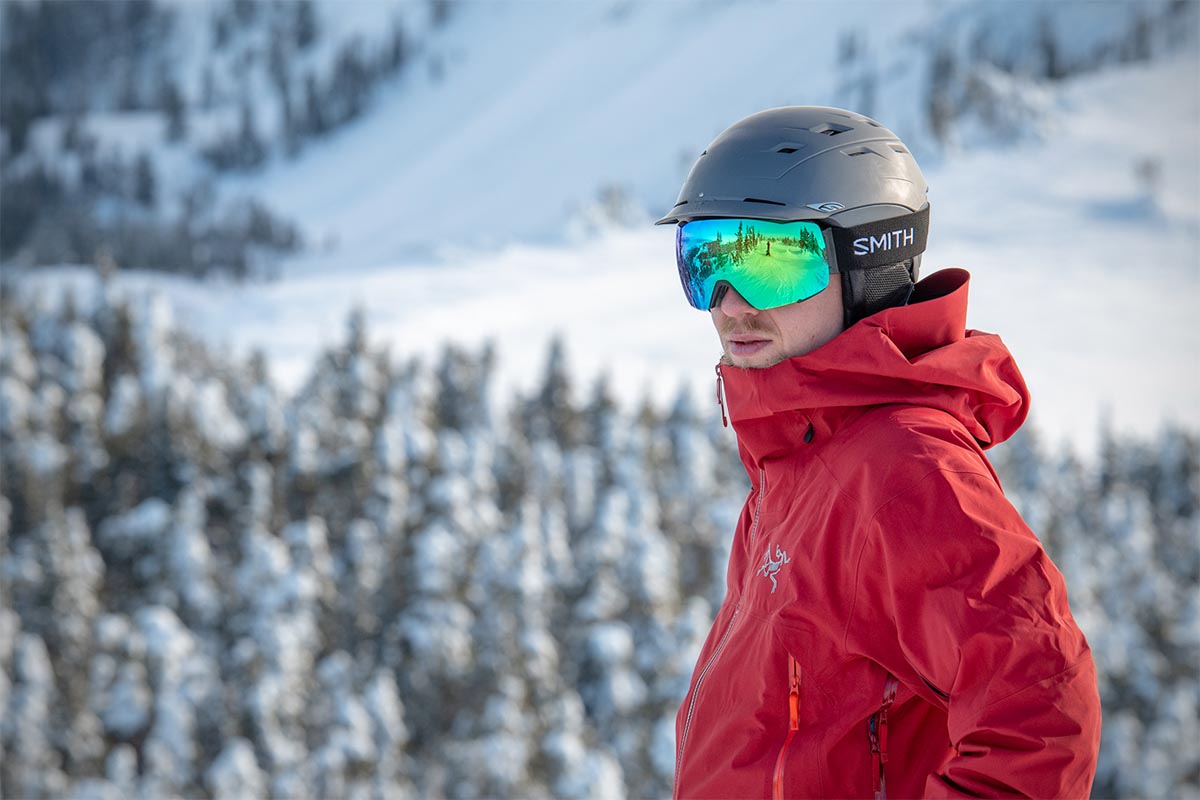 Toric
A third shape that is gaining traction is the toric-style lens. This design splits the difference between cylindrical and spherical: it's curved both vertically and horizontally to mimic the shape of the eye like a spherical lens but is less pronounced and bulbous looking.
The advantage of a toric lens is largely aesthetic, and it will appeal to folks that don't like the bug-eye look of a spherical lens but still want the rounded shape.
From an optical perspective, it's becoming more and more difficult to parse out the differences, but it should perform similarly to a spherical lens by minimizing distortion at the edges.
Top toric-shape goggles for the 2022 season fall on the premium end of the spectrum, including Anon's M4 MFI and Giro's Contour (not included here).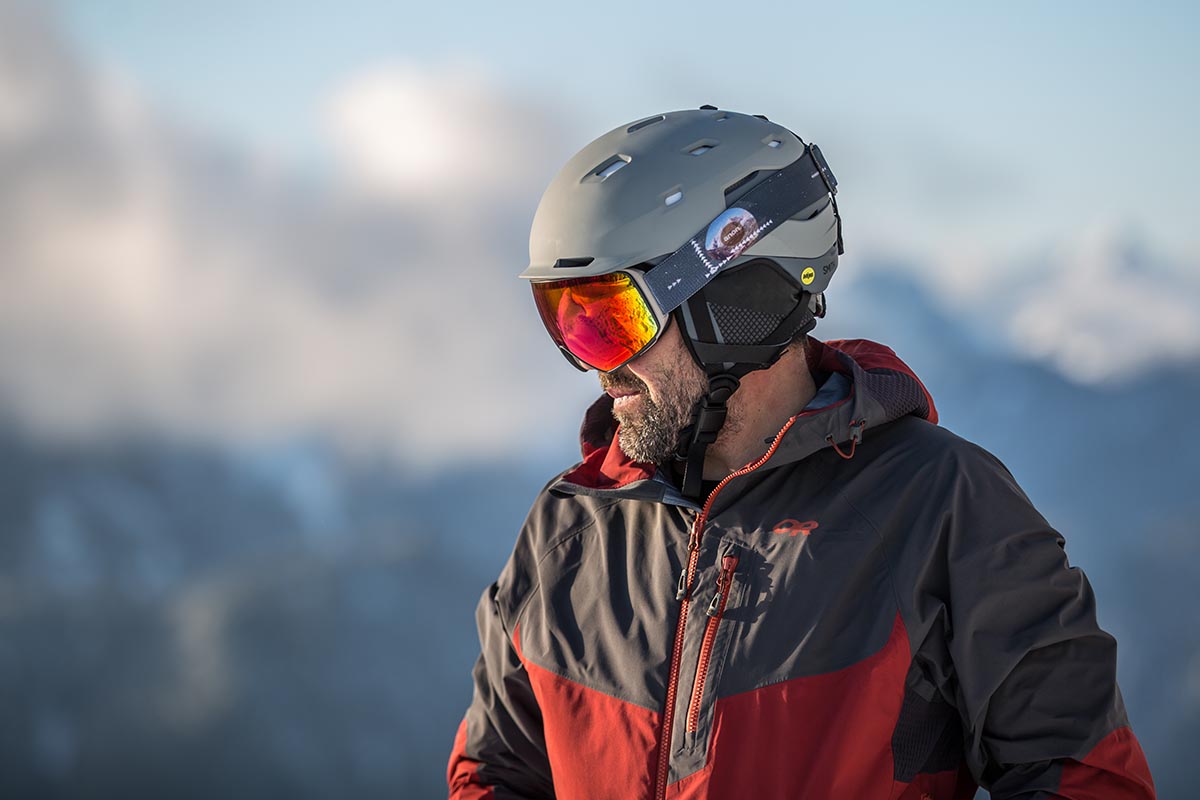 Optical Quality: ChromaPop, Prizm, Vivid, and More
Advancements in quick-change technology are exciting, but we prioritize optical quality above all else. It's the reason why a total of four Smith goggles with ChromaPop lenses made our 2022 list. The lens technology is that good.
ChromaPop is the best we've used for the richness of color and contrast (it's nearly HD-like in its clarity and natural feel) and we're happy to see the lens offerings have increased to include most styles in the Smith lineup.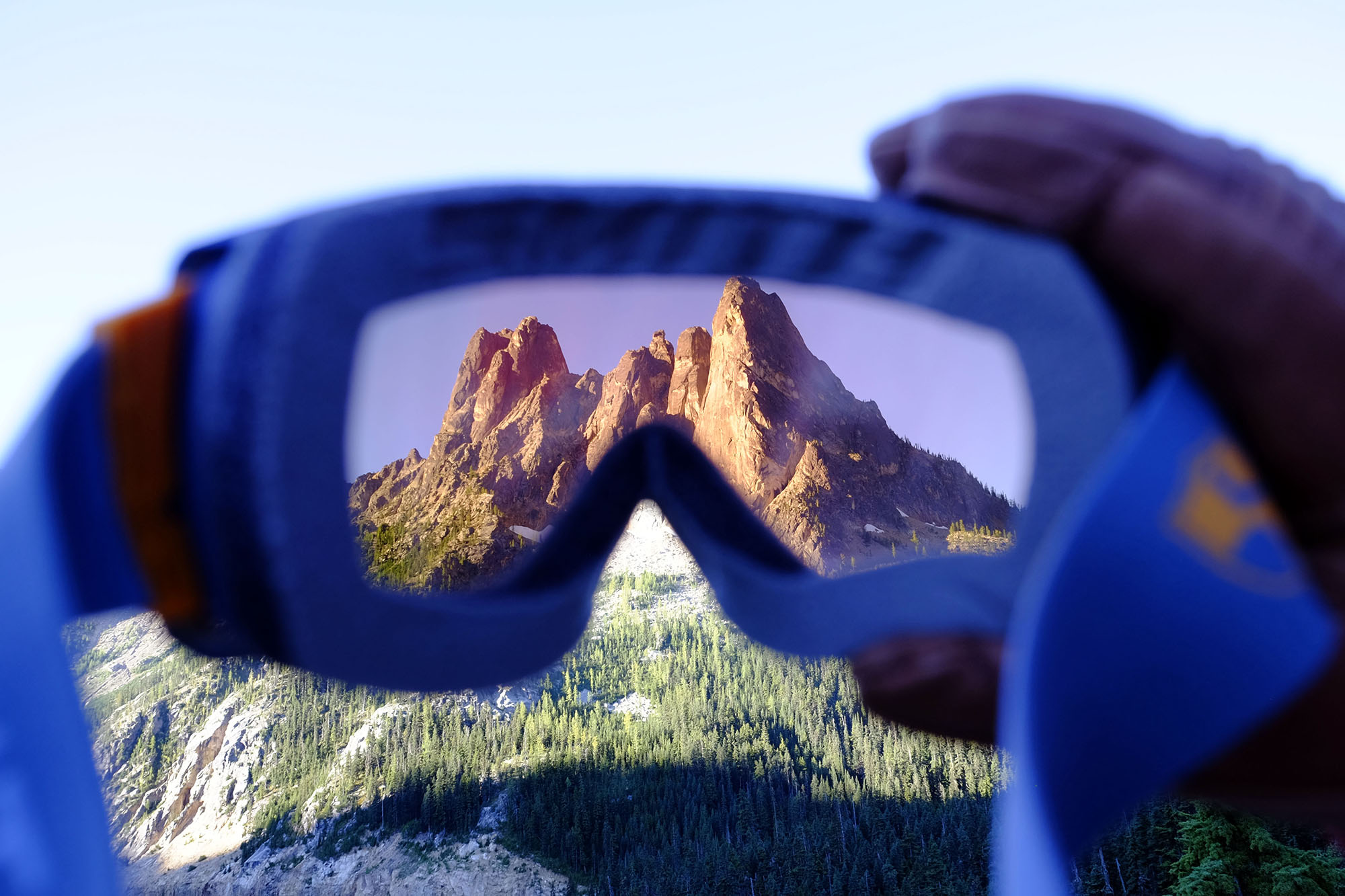 ChromaPop surely is not alone in high-quality optics. Oakley's premium competitor is their Prizm lens, which does a great job in making details stand out, although it can look a little more artificial than ChromaPop in certain tints (some are overly pink, for example).
Giro turned to Zeiss, a proven camera lens manufacturer for help with their lenses, and we've been impressed with the clarity of the Vivid lens line including the Giro Axis. Anon and Dragon keep most of their lens development in-house and offer competitive detailing (Anon does partner with Zeiss for some top-end Sonar lenses), although in general they fall a little short in overall quality.
It's important to note these upgraded lenses are most valuable in difficult lighting and aren't a necessary feature, but the difference is noticeable and can be worth the extra investment for the committed skier and snowboarder.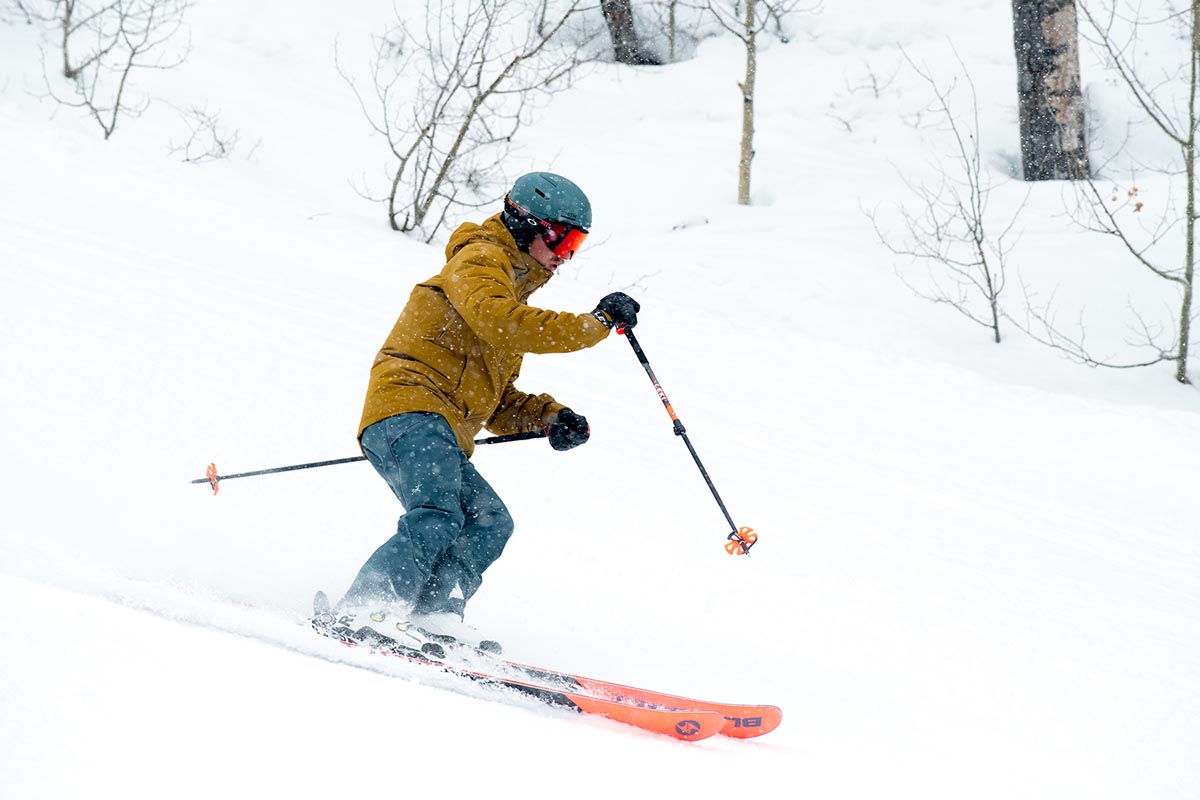 Mirrored, Polarized, and Photochromic Lenses
Moving beyond families of lenses like Prizm, Vivid, or ChromaPop, there are specific lens technologies designed for harsh or variable conditions.
For bright, sunny days, mirrored lenses work really well. The lens has a reflective coating on the outermost layer that softens the glare by allowing less light to enter. You'll find mirrored lens options across the board designed for use in the brightest conditions.
Another lens technology is polarized, which was originally intended for use on the water, but it also reduces eye fatigue on a bright day by blocking strong bursts of horizontal light. The technology doesn't translate perfectly to snow when you may want to see the glare of an icy patch, and their biggest downside is cost—the Anon M4 Polarized is $380, which is $60 more than a Sonar option.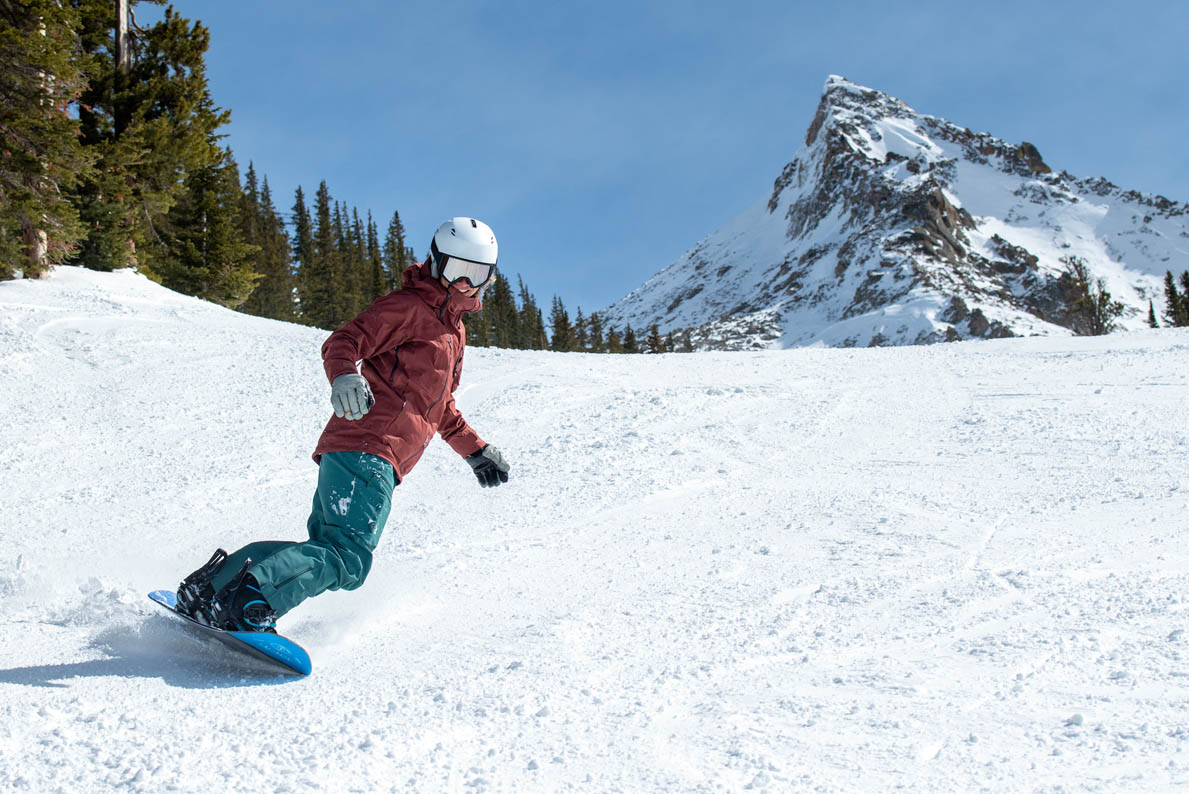 The final technology is photochromic lenses, which adjust automatically to lighting conditions based on the intensity of light. This gives them a very wide VLT range (more on that below) and they are great if you don't want to have to swap lenses.
We prefer bringing two lenses, however, which allows us to better match a lens to the conditions, rather than trying to get an all-in-one solution. And it's pretty clear based on the market that the momentum is behind quick-change systems, although there are some intriguing photochromic options from brands like Zeal Optics and Julbo.
Visible Light Transmission (VLT) and Lens Color
VLT is the amount of light that is allowed to pass through a lens (measured from 0% to 100%).
In the brightest sun, you may want a lens with as little as 10% VLT. For night skiing, a "clear" goggle is around 90% VLT. There is some variation between manufacturers, but lenses generally are 15-40% VLT for bright to normal conditions and 40-70% VLT for cloudy and snowy days.
Other factors matter like polarization and lens color, but these are the general parameters.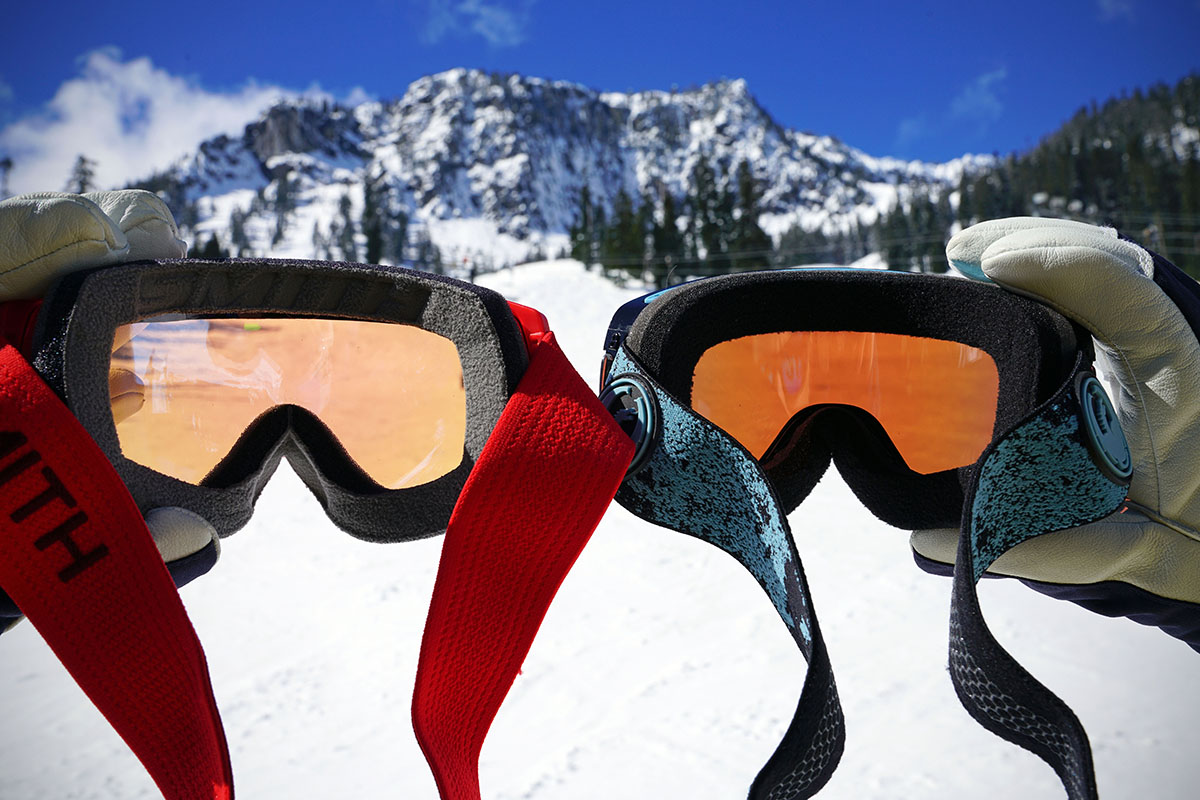 You'll often see a product page for a popular snow goggle showing a huge range of lens color options. The choice comes down to 1) VLT; and 2) Your tint preference (i.e., how you want to see the ski world around you).
At the low end of the VLT spectrum are blacks, grays, and blues, which are designed to block out the most light and therefore are the darkest.
Toward the middle for partly cloudy days are purples, reds, and greens, which, as you can imagine, color how the snow and mountains look significantly.
For overcast and gray days, you'll find lenses that are much clearer than the first two categories and come in very light shades of yellow and blue.
Interchangeable Lenses
Nearly every goggle made has the option to change out the lenses, although the difficulty varies by manufacturer and product.
The traditional method involves pulling (and sometimes lightly tearing) the frame away from the old lens and sliding/snapping in the new one. It's a clunky and slow process that can be frustrating, especially when reconnecting the lens around the nose bridge. That said, for those that purchase a goggle with a single lens or only plan to change tints on rare occasions, it can be serviceable (although we recommend making the swap at home rather than outside on the mountain).
Many budget-oriented models rely on this basic system, including Smith's $60-$80 Range.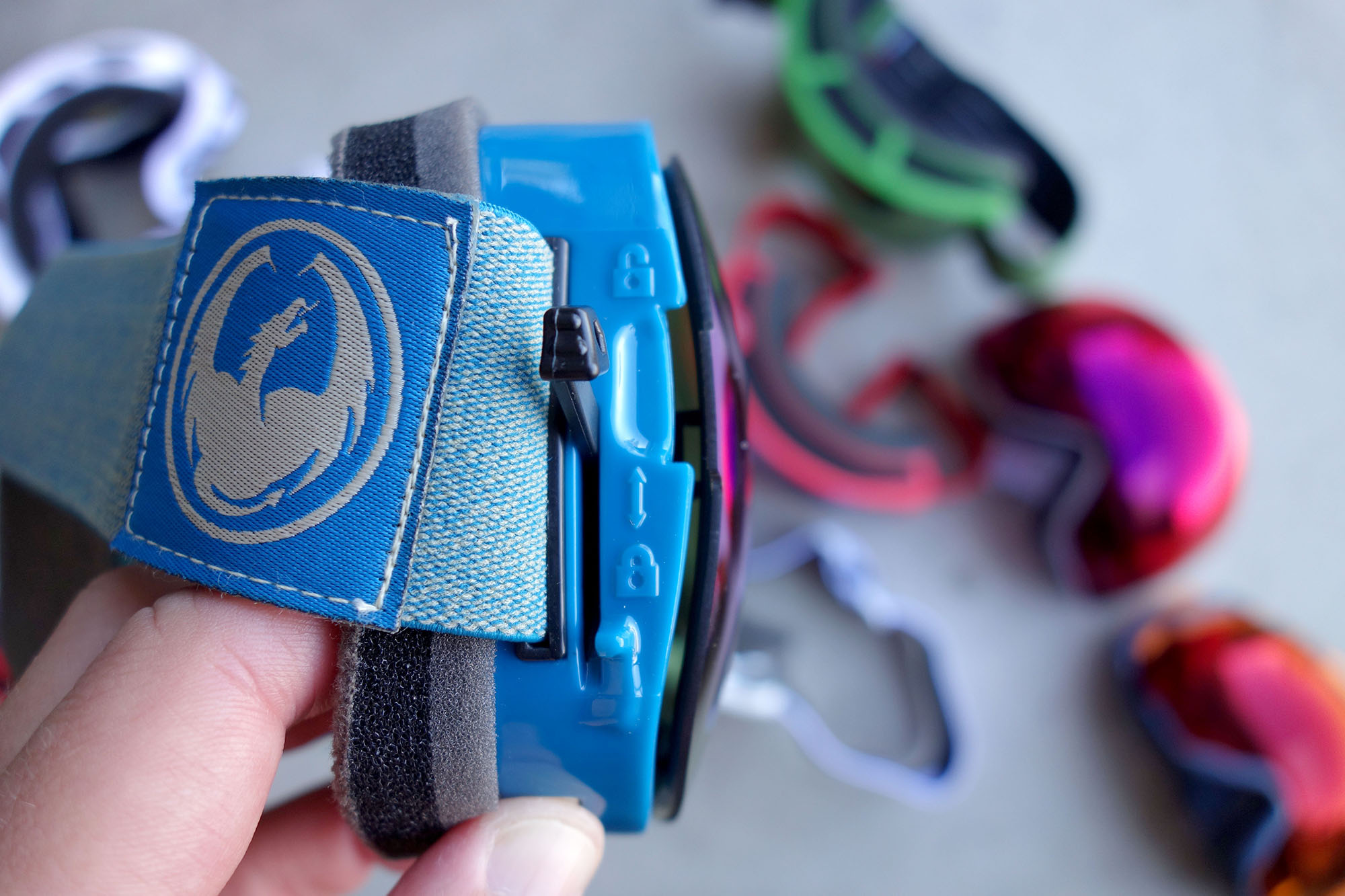 Quick-Change Lens Systems
If you intend to purchase a goggle with two lenses and swap them a fair amount, even during the middle of a ski day, opting for a modern, quick-change design is worth it. T
he current leader in this technology is Anon, which uses a magnetic system on their "M" collection that allows you to swap out lenses without taking the goggles off your head. It's amazingly simple (we've timed ourselves swapping in just 5 seconds), and the powerful magnets do a great job of keeping the lenses from falling out in all but the worst crashes.
Smith and Giro have similar magnetic designs that are featured on models like the Smith I/O Mag and Giro Axis, although you're required to push a button/lever to release the lenses, which we've found to be slightly less convenient but a bit more secure. And brands like Dragon and Scott utilize lever-based systems that offer similar convenience, albeit in a slightly less premium setup.
Again, not everyone needs to put a quick-change system high on their priority list, but it's a useful feature for adapting quickly to variable lighting conditions.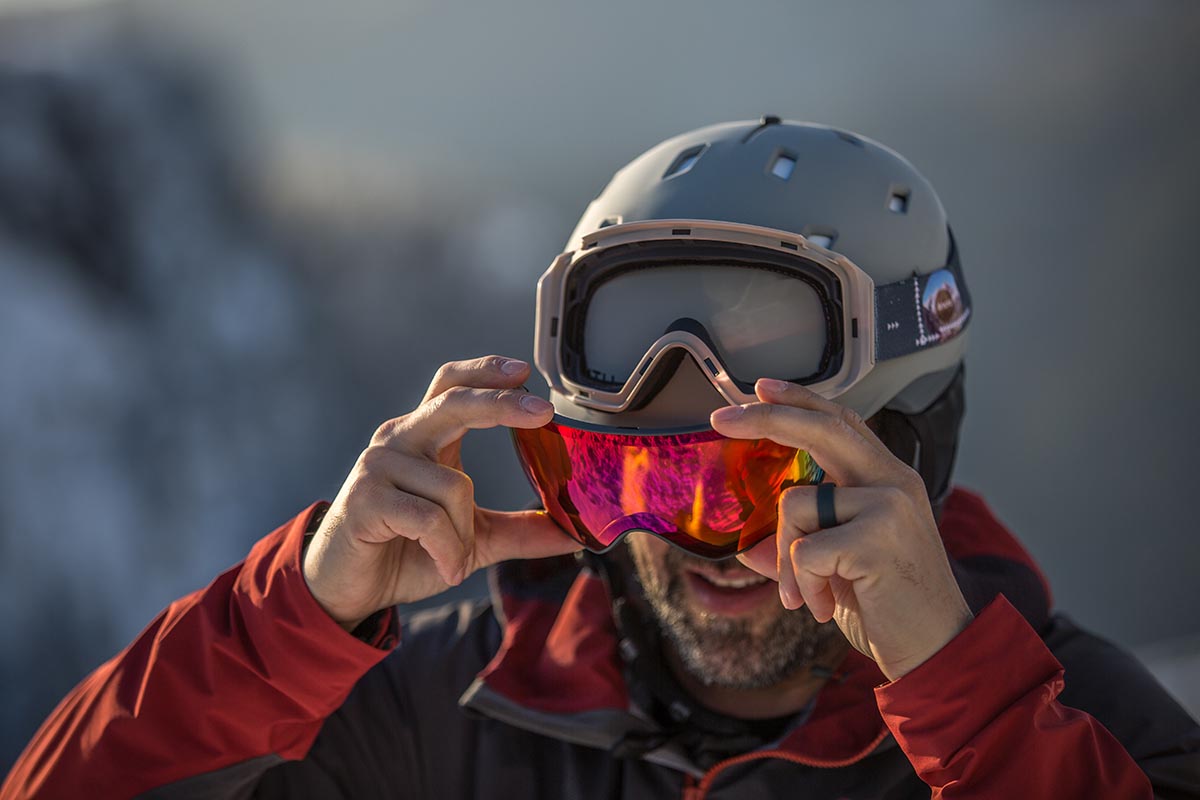 Field of View
With the growth of large-frame goggles has come a corresponding jump in field of view (also referred to as "field of vision").
Modern designs feature wide and tall lenses and low-profile frames, which enhance peripheral vision and help avoid the narrow, tunnel-like feeling that was inherent with older goggles. More visibility makes for a safer day on the mountain, so we're completely on board with this trend.
In general, spending more gets you an improved field of view, and a well-made, large-size frame like the Oakley Flight Deck Prizm is almost as good as not wearing a goggle at all. Smith's 4D Mag takes it to another level by curving the bottom of the lens to increase visibility straight down (for easily accessing things like a jacket zipper) and in the bottom corners. For smaller faces, Giro's Expansion View technology (found on the Giro Axis and others) does a nice job of retaining good visibility with a compact, face-hugging design on both their spherical and cylindrical lens models.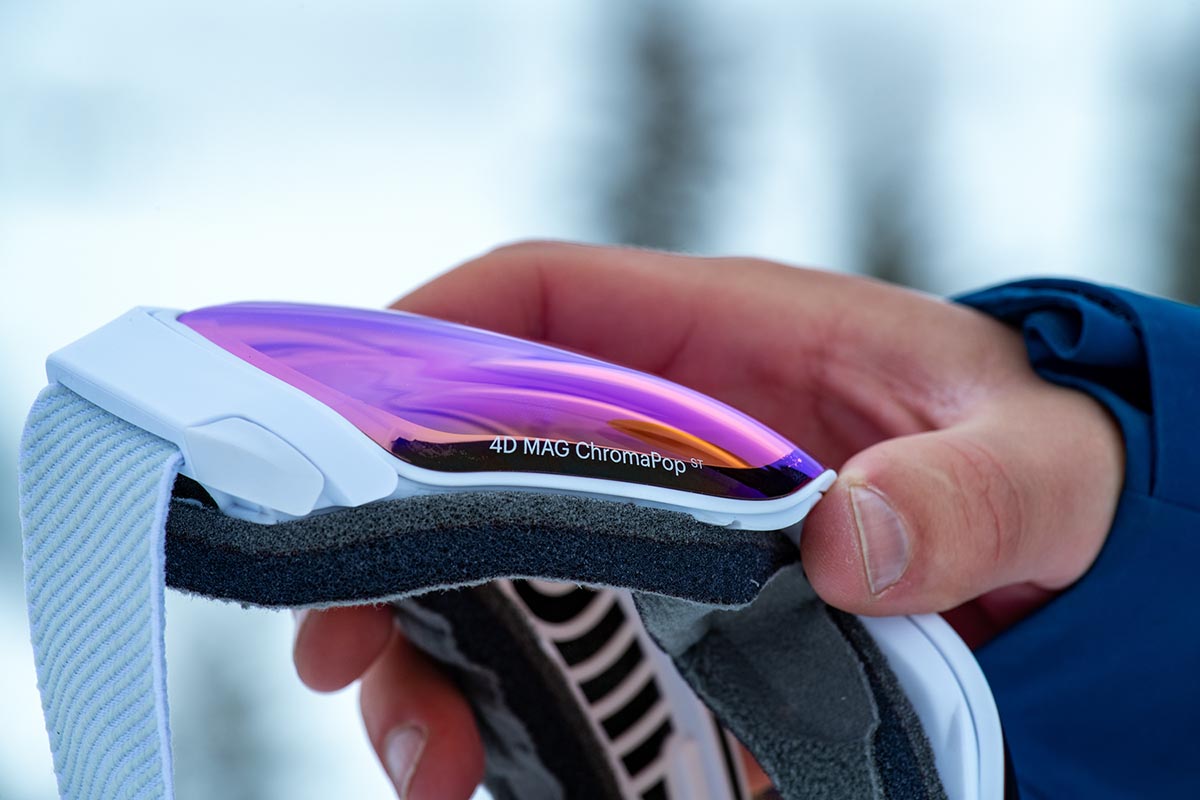 Ventilation and Fogging
If your goggles are all fogged up, it doesn't really matter what kind of lenses you are using.
The first step in minimizing this issue is to make sure you choose a double lens (note: all of the models to make our list have this feature). Next, consider the frame design: ventilation comes from the sides, top, and bottom of snow goggles, and the more air that moves through, the less fogging will occur. The specific size and shape of the vents are goggle-specific, so make sure to inspect the pair that you are considering. If possible, try it on while wearing your ski helmet to ensure the latter doesn't block your venting.
Other tips to avoid fogging include not overdressing (this will cause your face and head to sweat more) and keeping your goggles on during your ski day. Moving goggles to your forehead will cause the heat and moisture emanating there to fog up.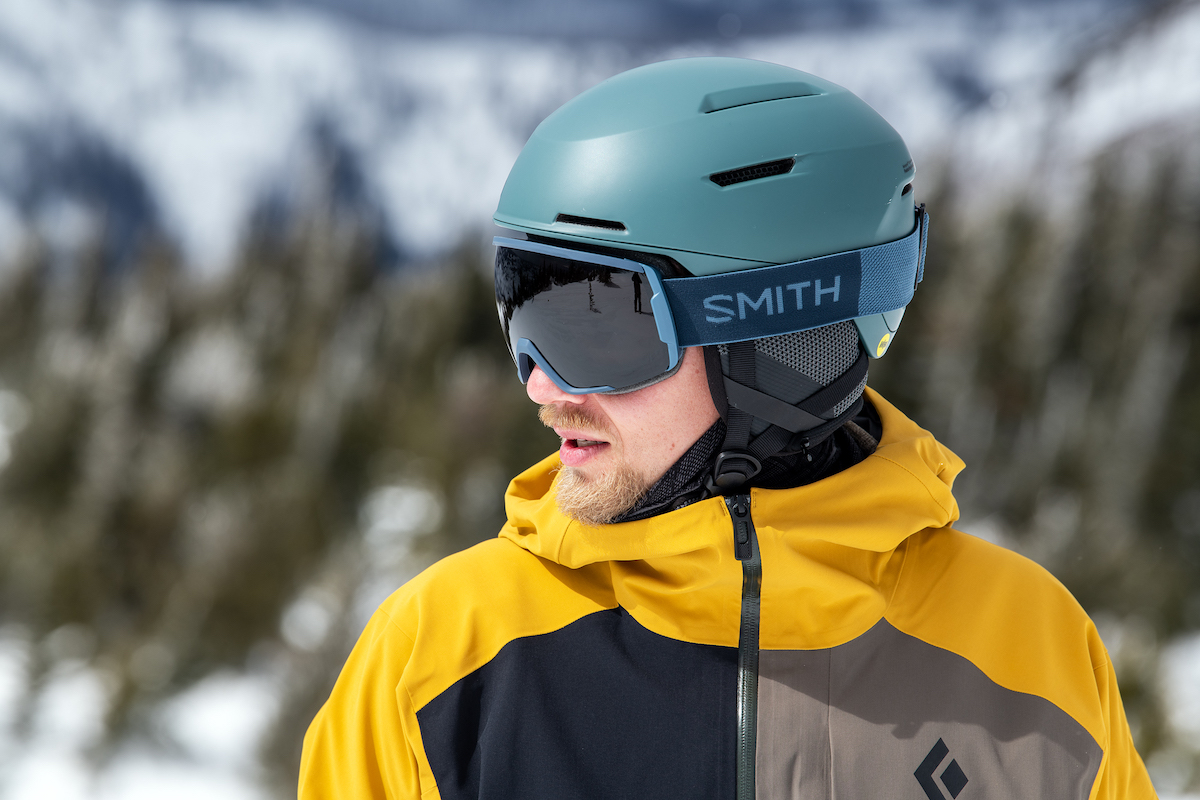 Another key piece to the puzzle is your goggle's anti-fog coating, which is applied to the inside of the lens. To avoid degrading the treatment, it's important to limit the number of times you wipe moisture off the lens (only do this in the most desperate of times). Instead, if they get wet, air-drying is the best solution or you can bring an extra pair of goggles (or lens) in your ski pack if you need them in a hurry.
For those with persistent fogging issues during down times (such as on the lift) or if you want to wear your goggles during high-output activities like ski touring or side country hiking, Julbo has an innovative answer with their SuperFlow technology. With hinges on the sides of the Aerospace's frame, you can push the lens away to create enough separation to quickly dissipate moisture and avoid fog build-up.
Clearly, it's a unique system that excels in certain environments (you'll need to push the lens back into place on the downhill), but the technology is there for those who need it.
The above tips cover some of the basics of this topic, but for a deeper look check out our article on How to Prevent Your Ski Goggles From Fogging.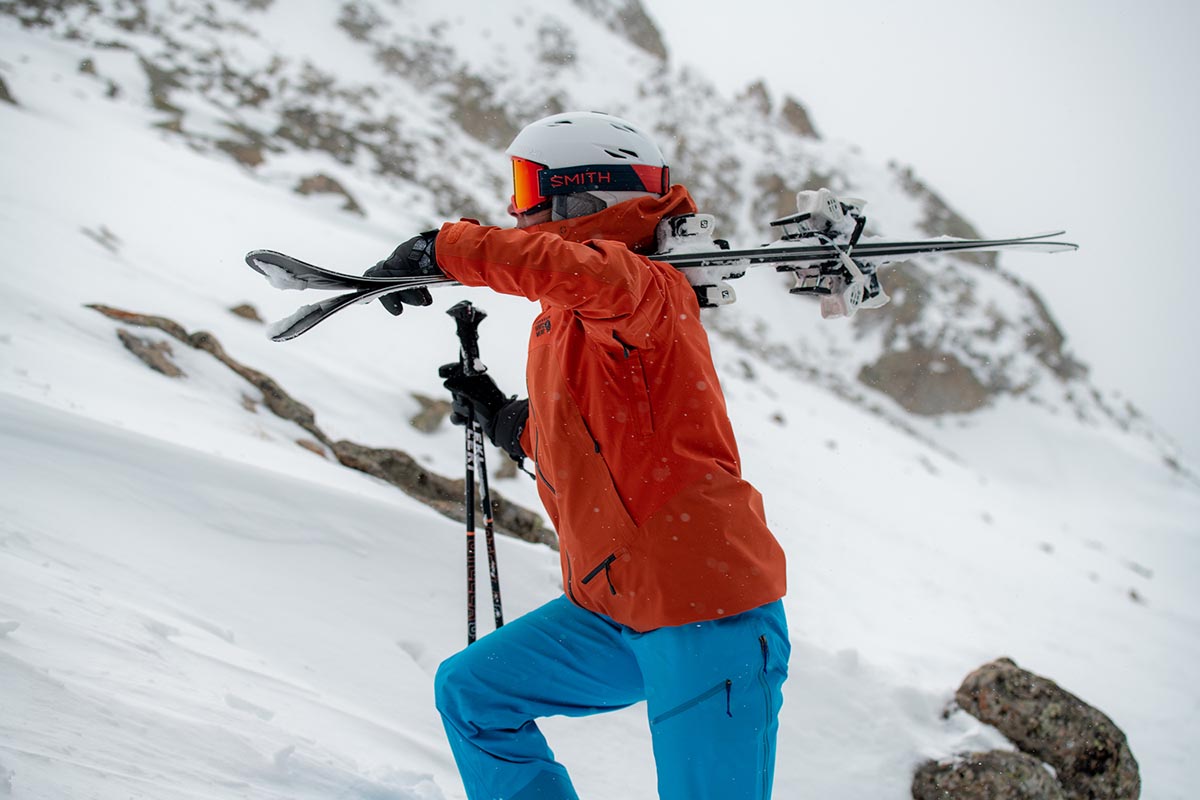 Framed vs. Frameless Goggles
Frameless or rimless designs ditch the plastic around the edges of the lens on a traditional goggle, giving them a distinctive, oversized look.
The most common argument in support of these designs is their improved field of vision. And a frameless goggle like the Oakley Flight Deck admittedly does have expansive views (at the compromise of a little more vulnerability to damage at the edges). However, the majority of the credit should be given to its large spherical lens and low-profile design.
Frameless goggles also can make it easier to remove the lenses, although again, the more important factor is its interchange technology. For example, the difference between the frameless Anon M2 and framed Anon M3 and M4 is basically nil—with the M3 and M4, the extra effort required is a slight twist to expose a corner of the lens from the frame.
In the end, the disparities in performance between a framed and non-framed goggles are pretty negligible. Just pick the style you like best.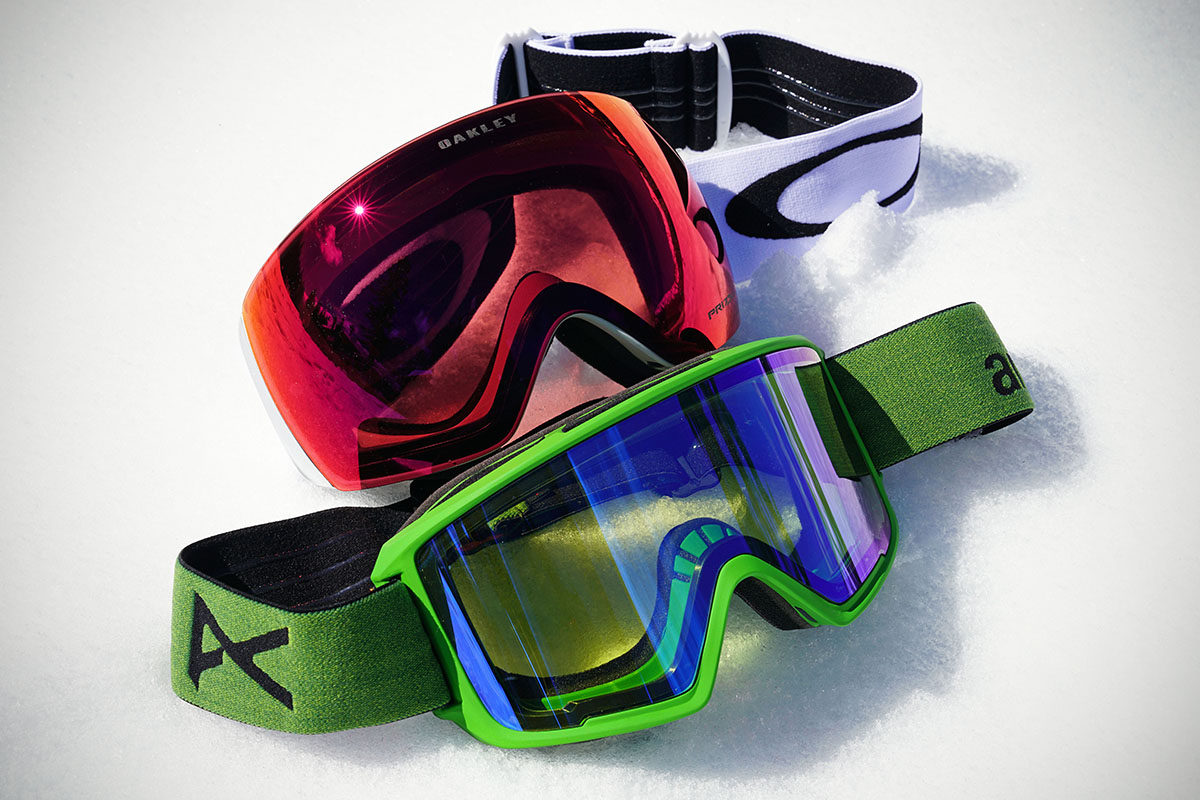 Foam Padding and Comfort
As with many types of outdoor gear like ski helmets and backpacks, the quality of padding differs significantly on ski goggles and gets markedly better the more you spend.
On basic models, the padding is a simple single-layer foam that isn't as comfortable around your face as pricier models and won't fit as snug. It also will retain more smell and moisture and break down quicker.
When the price tag gets to the $100 to $200 price range, you'll find multi-layered foams and flexible plastic frames that are impressively contoured to the shape of the face.
If you only plan on skiing a few weekends each year, going with a cheaper ski goggle is a perfectly rational choice. But those who spend a lot of time on the slopes will appreciate the comfort and fit of a higher-end goggle with superior padding.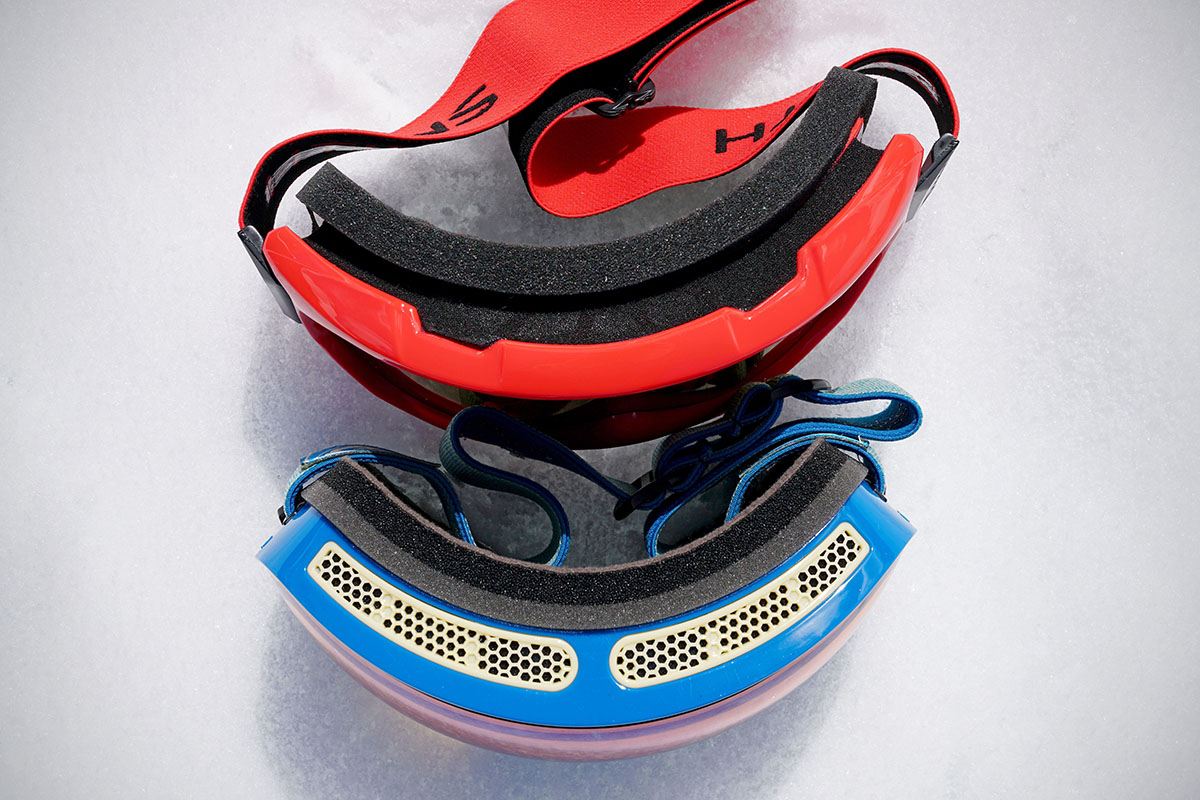 Fit and Sizing
Sizing is one of the most important—and sometimes confusing—parts of the goggle buying process.
First and foremost, ski goggles come in three general sizes: small, medium, and large. You will find some women's-specific models in more "feminine" colorways and with a slightly narrower frame, but goggles really are a unisex piece of gear. In addition, you'll see "low bridge" options for those that find the fit of a standard nose bridge to be too tall.
When trying on a goggle, you want the fit to be snug but not tight enough to cause discomfort. Additionally, pay attention to your field of vision.
A goggle that is too small will impact your vision side to side and up and down. Common pressure points are the nose and around the eyes, which can be relieved by making adjustments either with the sliding clip or buckle system around the back. If the goggle still feels tight after loosening, it's time to move up in size.
As we cover below, trying goggles on with your ski helmet (or at least a similar ski helmet in the store) will give you the most accurate picture of how everything will feel on the mountain.
OTG (Over the Glasses) and Prescription Inserts
We have good news for wearers of prescription glasses: there are a number of over-the-glasses (OTG) goggles on the market.
OTG goggles are defined by a generous opening between the lens and face to fit a pair of average-sized spectacles. In addition, there will be notches on the sides of the frame to accommodate the arms of the glasses.
Oakley is a leader in OTG designs, and from their line-up, everything from the medium-fit Fall Line XM to the oversized Flight Deck are compatible. Smith, Giro, Anon, and others also have a range of eyewear-ready models, including the Smith I/O Mag XL and Anon M4 MFI.
It's worth noting that a goggle that's labeled as OTG does not guarantee your glasses will fit inside, particularly if they're bulky and large. That said, most medium to small glasses with low-profile arms will work.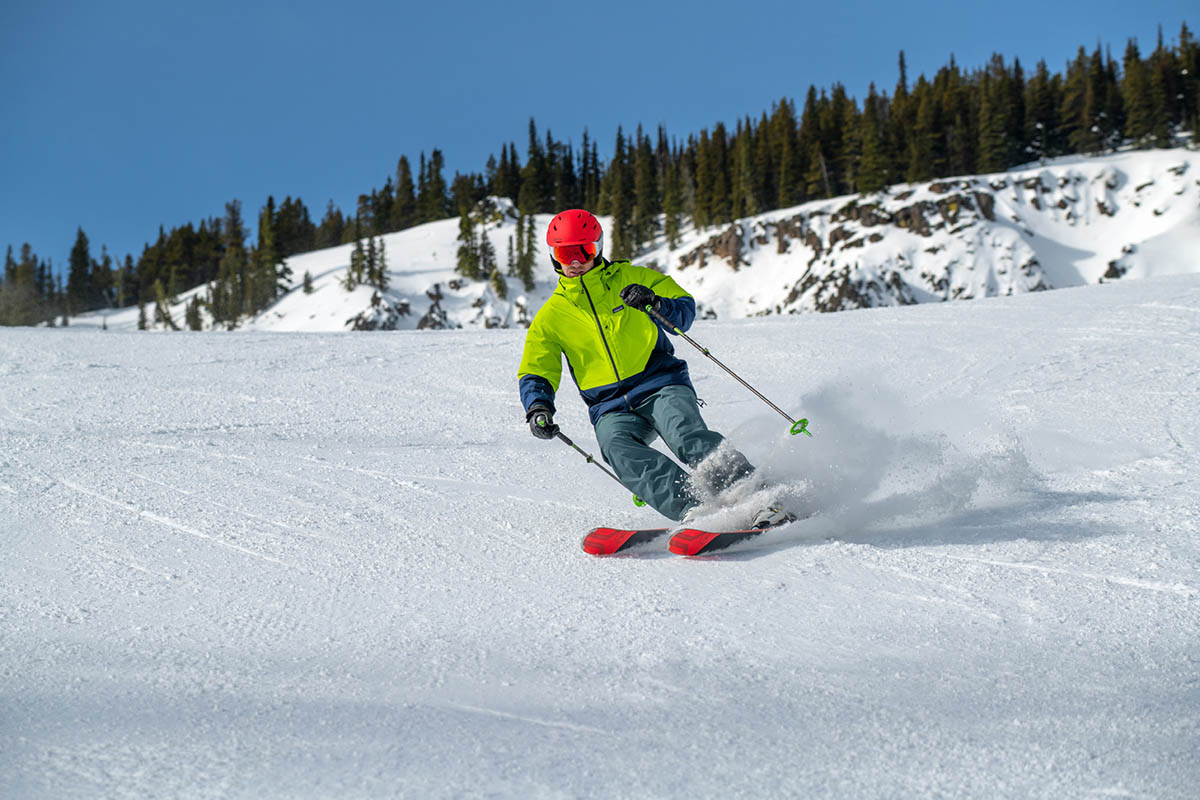 One nagging issue with wearing your prescription glasses under a pair of ski goggles is fog build-up. The extra material inside of the lens impacts airflow, and just as importantly, your prescription glasses lack an anti-fog coating.
Plenty of eyeglass wearers are willing to make this compromise (or switch to contacts), but there's another solution: prescription inserts. These compact liners fit right on the inside of the lens, which greatly improves airflow and allows your venting system to function normally.
California-based SportRx is the market leader in prescription inserts with a range of models that allow you to tailor the fit to your goggles (you include the make and model with the purchase, and they manage the rest). The cost is somewhat high at $90 for a standard insert, but it's a good investment for those that want to maximize all-around performance.
Helmet Compatibility
Finding a suitable helmet to pair with your ski goggles that doesn't result in the dreaded gaper gap (a large opening between the goggle and helmet) or worse, doesn't fit at all, used to be a challenge.
Nowadays, most helmets and goggles work pretty well together. That being said, if you aren't able to try the goggles and helmets on before buying, it's safest to stick to a single brand (i.e., purchase both a Giro-brand helmet and goggle).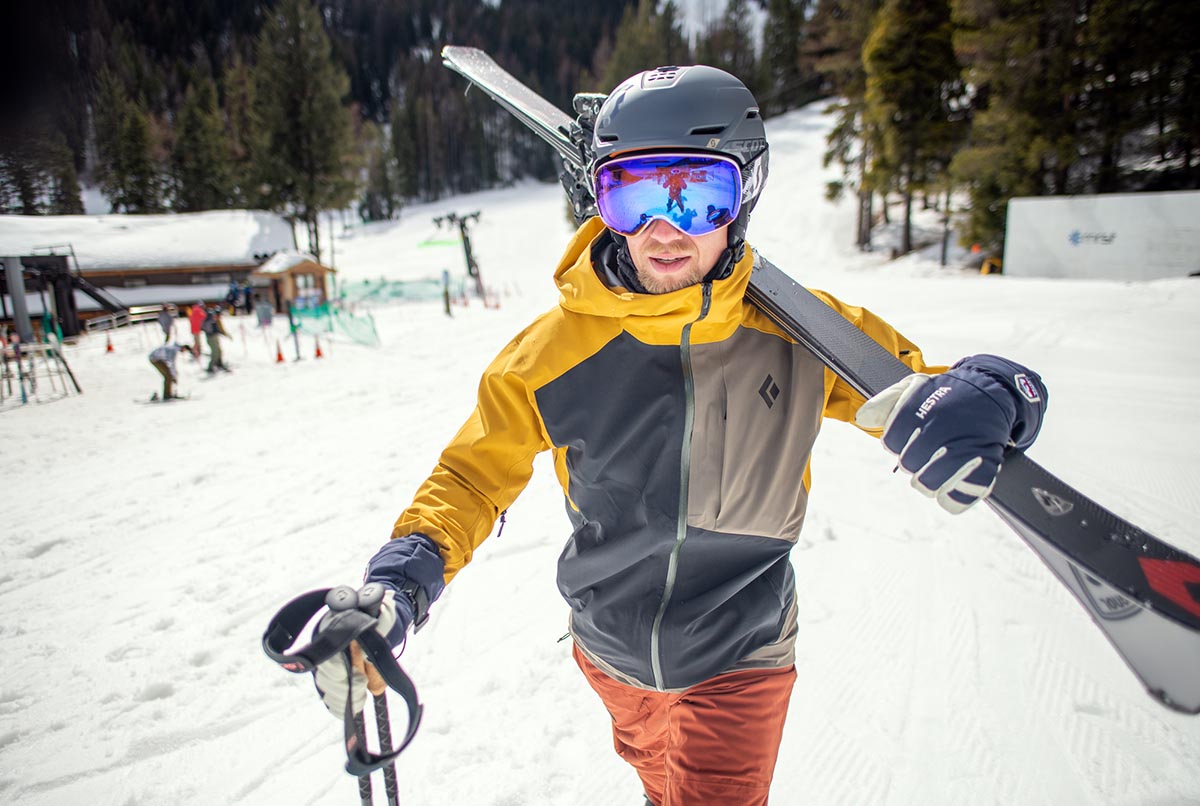 One exception is tall, large-framed goggles like the Dragon X2 or Smith Squad XL. Those may require a helmet with an accommodating brim, such as the Oakley Mod 5 MIPS.
Overall, we've found that premium helmets are the most compatible with a wide range of goggle sizes, but keep an eye out for features like a baseball hat-like bill that could interfere with the goggles. The large, angled brim on the Bern Watts is one of the worst offenders and limits its compatibility to mostly medium-sized goggles.
And if you're somehow still not wearing a helmet, it's time to change that: check out our article on the best ski helmets.
Back to Our Top Ski Goggle Picks  Back to Our Ski Goggle Comparison Table
---
Ready to book your own customised adventure, or perfect family ski vacation? Click here to speak to the Ski Holidays & Tours team.